(THIS POST PROBABLY CONTAINS AFFILIATE LINKS. OUR FULL DISCLOSURE POLICY IS REALLY BORING, BUT YOU CAN FIND IT HERE.)
Don't Let Our Busy Lives Stop Us From Enjoying An Easy Baby Booties Knit Pattern
What Excuse Do You Use Not to Knit?
Easy Baby Booties Knit Pattern is the perfect project for you when you are short on time. There are some days I am certain two or three hours have gone missing. There just isn't enough time! On some days it seems like not enough time for anything. No fun or play just work and clean and worry. I am sure you recognize in this world there is plenty to worry about, but I think that is the very reason we need to make time for play too.
Baby bootie knitting patterns are a great take along project and they are always a hit at any baby shower. Imagine if your handmade gift was the hit of your next baby shower.
Is It That You Don't Have a Special Place? 
Sometimes you can feel you don't have a special place to knit.  That lovely rocking chair or a special craft room, or me, I love sitting on my deck in the evening, listening to the sounds of nature and doing what I love, clicking my needles together, creating something gorgeous.  But if I can't get to my deck, maybe it is raining, should that mean that I don't knit that day?
Sometimes, we have a schedule to keep, house to clean, meals to cook, children to bathe, an perhaps a job to work. Well some of us are so regimented that we will not allow ourselves the "luxury" of some "me" time. Rubbish! We need it!
&
Here Is A Video That Helps You Understand A Very Simple Pattern For FREE Little Booties And Complete In An Hour. 
A video is really helpful because you can pause and re-watch and start again. So really utilize your resources. Also there is a lot of help in the comments if you need the extra help. But the wonderful thing about these instructions is that you will have a completed pair of booties for your little one or a gift for someone in just one hour.
And if it takes you a little longer…well that just doesn't matter.
 Knitting Pattern Baby Bootees with Cables and Pearls
&
These are precious little tiny booties. They are actually knit on two needles and then sewn together which for a beginner knitter is an easier way to go. You can save double pointed needle sock knitting for later once you've had some practice with knitting.
These booties are for sizes 0-3months  abd 3-6 months.  Just use sport weight baby yarn and size 4 needles.
I think they are beautiful and would be a fun challenge and for sure a perfect present.
[azcss]
Very Sweet Free Baby Booties Knitting Pattern
Newborn booties Free Knitting Pattern
These baby uggs  are perfect for the beginner knitter that has a little experience. The pattern is written in three different sizes. And what is really cool about this pattern is that the designer has included a fully illustrated 9 page photo tutorial to help you along the way.
Etsy is known for their amazing Artisans. All the designs are original and beautiful.
(You can get these beautiful baby booties snuggs  from Etsy.com)
&
The cutest little Lady Bug Baby Booties-Free Pattern
RED HEART SWEET LADY BUG BOOTIES
These Adorable bunny rabbit esu baby booties knit pattern and they are knit on two knitting needles. They are designed to be stretchy and a great fit.  These booties also have a full color photos and row by row stitch count. You can't help but knit this booties with success.
Make them in multiple color combinations. They will make great unique gifts for all your future baby showers. You'll be the hit of all the new mothers.
(You can get these bunny booties knitting pattern at Etsy.com)
&
More Adorable Easy Baby Booties Knit Pattern To Help You Onto the Right Path For Leisure
Baby Booties and Socks: 50 Knits for Tiny Toes
Snow Baby Knit Bootie Pattern
50 Baby Bootees to Knit
Ballet Flats Knitting Pattern
Simple Knits for Cherished Babies
Knitted Baby Bootees (Twenty to Make)
Knitting Helps Us Remember to Relax
An Easy Baby Booties Knitting Pattern Can Also Help
The point of this post is to encourage all of us, myself included not to forget the importance of allowing ourselves some relaxation time. To allow ourselves the opportunity to soul search or meditate or simply think of nothing. But to have the time to do something we really enjoy doing, in this case, knitting.
Beautiful Aqua and Lavender Baby Booties- Completely Free Knitting Pattern
Baby Booties in Regia Free baby booties
These are precious preemie or tiny and easy baby booties knit pattern. They use only a tiny amount of yarn so they are perfect for using up your yarn stash. They are from Etsy too and are a digital download so you will instantly have your new pattern.
Get more information about this pattern by Clicking Here
&
Such Adorable Little Eyes Baby Booties Free Knitting Pattern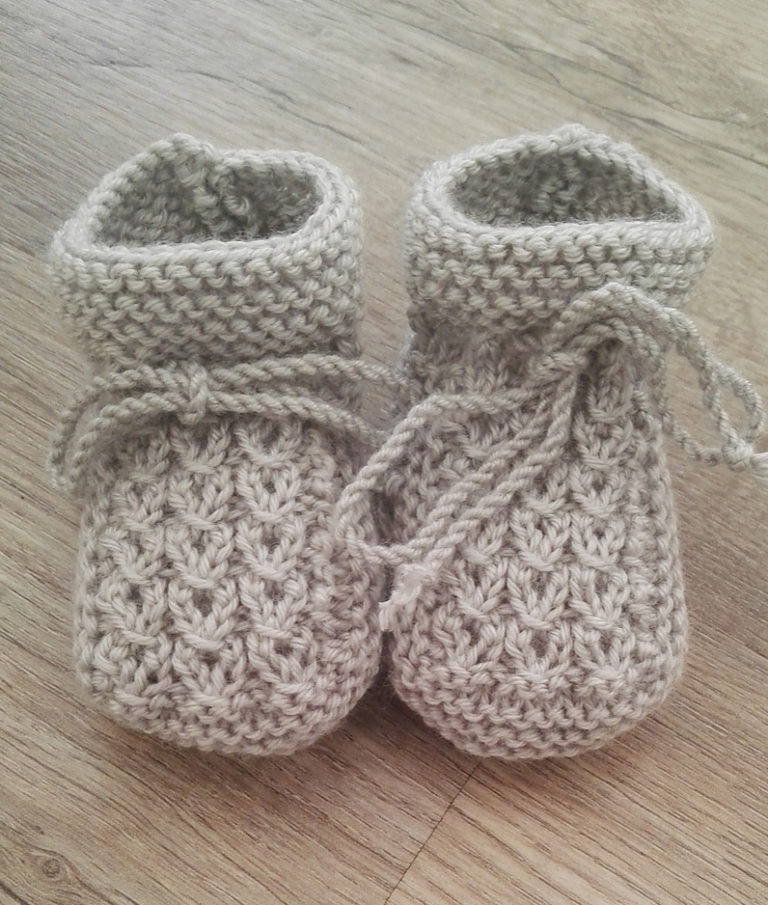 Little Eyes Baby Booties Free Knitting Pattern
More Help With An Easy Baby Booties Knit Pattern
Sometimes baby booties actually get left behind because they have the reputation of being difficult. It just isn't true. Especially if knitting with only the two needles you are used to. You may find this article of value, since it gives more information on Two Needle Knit Baby Booties Patterns.
A Free Knitting Pattern and Tutorial For these Cute Baby Booties
These are some baby booties that I made the pattern for and included videos and tutorial. Enjoy these Cuffed Baby booties for yourself.
Cuffed Baby Booties Free Pattern and Tutorial
Take A Look At This
Maybe These Would Interest You:
Knit Double Pointed Needles- Free Baby Sock 
Free Baby Bootie Knitting Pattern