(THIS POST PROBABLY CONTAINS AFFILIATE LINKS. OUR FULL DISCLOSURE POLICY IS REALLY BORING, BUT YOU CAN FIND IT HERE.)
Free Baby Bootie Knitting Pattern-What Could Be Better?
I have been looking everywhere for a sweet free baby bootie knitting pattern. I wanted it to be a little lacy but well constructed. I didn't want it to fall off the baby's foot with every movement.
I Wanted A Pattern That Would Stay On The Baby's Foot
I don't know about you but I think this is a tall order. I have knit dozens of little knit socks for little ones, some purchased and some were free,  and although they are cute they are just not functional.
What got me thinking about this, was a friend that had the cutest  booties knit for her by someone else and she lost one of them in the first week. She was sick about it. She said it didn't really fit the baby but was so cute and she didn't want to offend her friend that knit it.
Free Baby Bootie Cable Knitting Pattern
This is an adorable knitting pattern, very unique with the cable pattern. This is a Russian written pattern but follow the link and scroll down to the middle of the page for the English written pattern. You would be the hit of any baby shower with these beautiful and clever booties.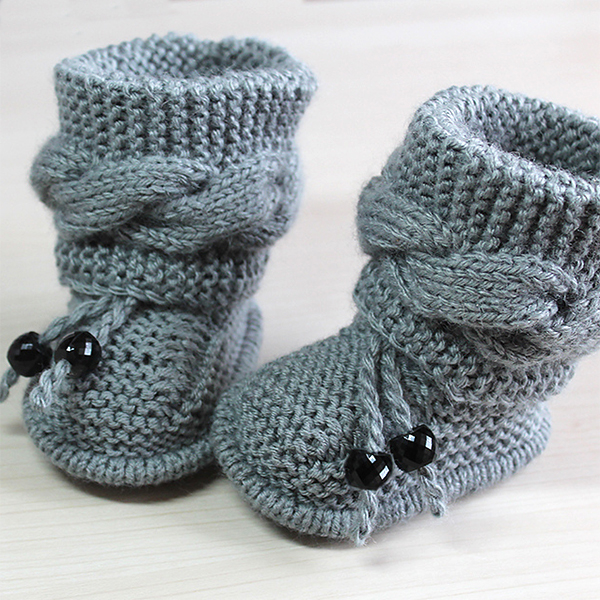 Free Baby Bootie Cable Knitting Pattern
Why Not Knit Something That Will Actually Stay On?
I can understand that but why not knit something that will stay put. Well of all places, I found this pattern on the BBC. You've got to admit this is one well constructed free knit baby bootie pattern.
I think they are adorable. Just click the image and go over to the BBC and check out this free baby bootie knitting pattern, and see if you don't agree. It is not complicated at all. The key here is the right size needles. The pattern suggests 3.5mm needles. Remember this is a British site, so look at your needle size carefully. A size 2 or 3 American knitting needle would work great.
Additional Help to Work this
Free Baby Bootie Knitting Pattern
Also I found this video of someone helping a beginning knitter know how to work the pattern, Yes the same one as above of the little cream ones. It is really very helpful and easy to follow. And you can pause and reverse to be sure you get all your questions answered.
The pattern is located on the video but it is a long url. So here it is. I loved these, I hope you do to and have fun! I know it joined my knitting patterns favorite list.
Little Eyes A Ravelry Free Baby Bootie Knit Pattern
This pattern was written for little newborn feet. The detail of this little bootie is so beautiful but very doable. You'll enjoy working this pattern.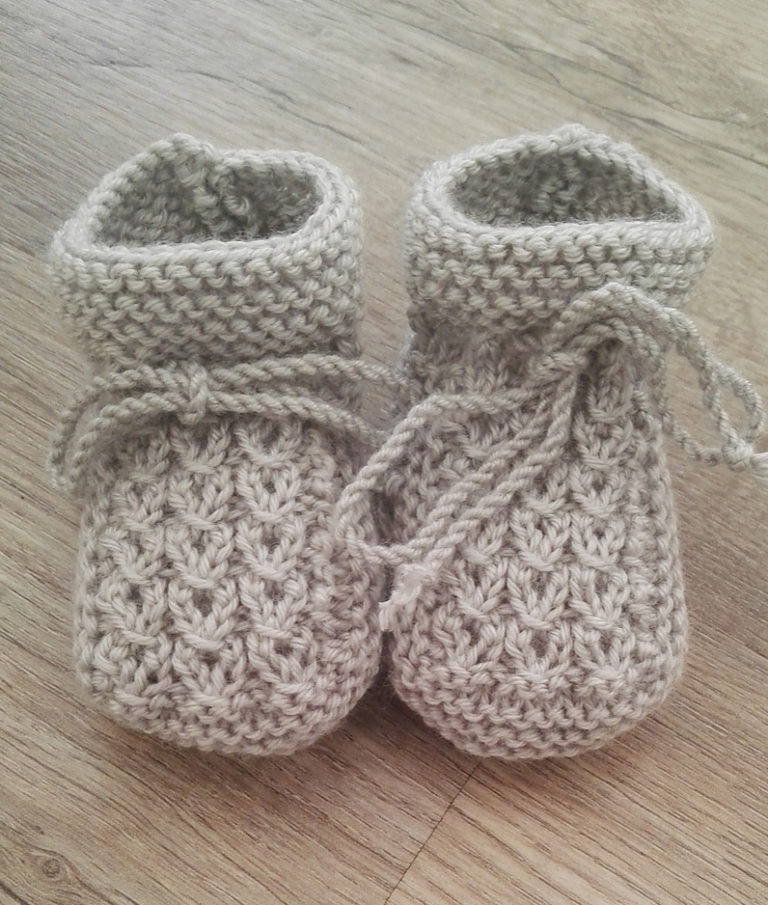 Little Eyes-Free Baby Booties Knit Pattern
Another Precious Little Slipper for A Happy New Baby
And This Pattern is Also Free From Lionbrand.com
Beautiful little booties that are even more special because they are Knit with only two needles, no need to be able to handle four or five double point needles, or even be able to knit in the round. And you can choose a color and texture that suits you. Enjoy these little beauties.
2 Needle Baby Booties Pattern (Knit)
Precious Two Needle Cable Baby Booties Free Pattern
This is an old pattern designed by Barbara Breiter. It's very easy to knit because it is knit with two needles  and sewed up the back. This allows you to concentrate on the pattern and cables. You will enjoy making this one.
Two Needle Cable Baby Booties Free Knitting Pattern
Related:
Two Needle Knit Baby Booties Patterns- Patterns and How To
Learning Knit Socks, How to Use Double Pointed Knitting Needles
Adorable Free Baby Uggs Knitting Pattern
A very popular shoe type for adults and babies alike. Very sturdy little bootie that is easy to knit and quick to complete. A great gift idea. Be the hit at every baby shower you attend.
Baby Uggs Free Knitting Pattern
Not Having to Spend Anything For Your Knitting Pattern Helps You Love Knitting
If you can find a lovely little sock pattern for free and enjoy making it, you will feel great. It is the best way to learn to knit booties and to learn to love knitting them. I do have several other Free Baby Bootie Knitting Patterns that you can check out too.
You can always buy some paid bootie patterns, they are not expensive and they are plentiful and usually they are a bit more unique and detailed in their style and pattern. I have other Baby Booties posts that will help you find some really cute inexpensive bootie patterns, but for now. Just have fun!!
Have A Look At This
Maybe These Will Also Interest You
Knit Double Pointed Needles- Free Baby Sock Pattern
Easy Baby Booties Knit Pattern-Let Nothing Stop You
Haven't Found What You Were Looking for? Search Again Here:
Use Our Free Gift Finding Tool Below: