(THIS POST PROBABLY CONTAINS AFFILIATE LINKS. OUR FULL DISCLOSURE POLICY IS REALLY BORING, BUT YOU CAN FIND IT HERE.)
Baby Dress Knitting Patterns to Round Out Your Knitting Experience
Baby dress knitting patterns are a great way to show off your knitting skills, but also a beautiful way to dress up your baby girl. A pretty knitting pattern for a baby girl dress is also a great baby shower gift. This page has several free adorable baby dress knitting patterns and a beautiful downloadable baby dress knitting pattern. You certainly don't lack options to how to dress your baby. diaper covers, overalls, baby hats, and booties, baby cardigans and baby cardigans. But a baby dress is very special. People love the cuteness of a precious baby all dressed up.
There is a wonderful variety of knitting patterns for making baby dresses. They can be for the advanced knitter but also for the beginner. You just need to pay attention to the details of the pattern before you begin. Or you can come to a blog that has done the work for you. I have chosen several baby dress knitting patterns for you to choose from and I have determined what skill level each one is. That way you will have the best chance to succeed in your next knitting project.
I have also included a downloadable pattern that is absolutely adorable and you will be successful with these instructions guiding you. Enjoy this one!
Beautiful Knitted Baby Dress- Paulina Dress- Free Pattern
Very Pretty little pattern for a newborn baby. It is a top down knit dress and a simple lace pattern for the skirt. The pattern says it will take about 300 Yarns of DK yarn. This is a free pattern, available for immediate digital download.
Beautiful Summer Baby Lace Dress From Etsy
Simple and quick to knit. You could have this one complete in just a few sittings. It has a very simple lace pattern. You'll be able to learn the pattern easily or follow the chart.  this beautiful little dress is knit in the round from the hem to the bodice, then it is knit in rows to make the bodice, arms and neck. It is very beautiful, and just waiting for you to put your touches to it, with color and yarn choices. . This is not a free pattern, but reasonable price, available for instant digital download. 
Beautiful Free Knit Pattern for a Sunday Stroll
A very sweet little wrap around lace dress. Top and skirt have a lace pattern with a tie on the side. The author of the pattern says their is also a pattern available for a bonnet and socks. Supper precious and a must knit.
Sunday Stoll Knit Baby Dress Free Pattern
Free Baby Dress Knitting Pattern Rich With Beautiful Detail
This baby dress knitting pattern can be personalized with your own touches. What colors you use, what yarn and what color ribbon. You can have fun with this one. It is for intermediate knitters, and is very special. It is a Free pattern available for immediate digital download.
Beautiful Lacy Baby Girl Dress Knitting Pattern From Etsy
Beautiful and detailed baby dress knitting pattern. Knit from the top down, in one piece.So pretty and although this is not a free pattern It is very reasonably priced and available as a download once payment received.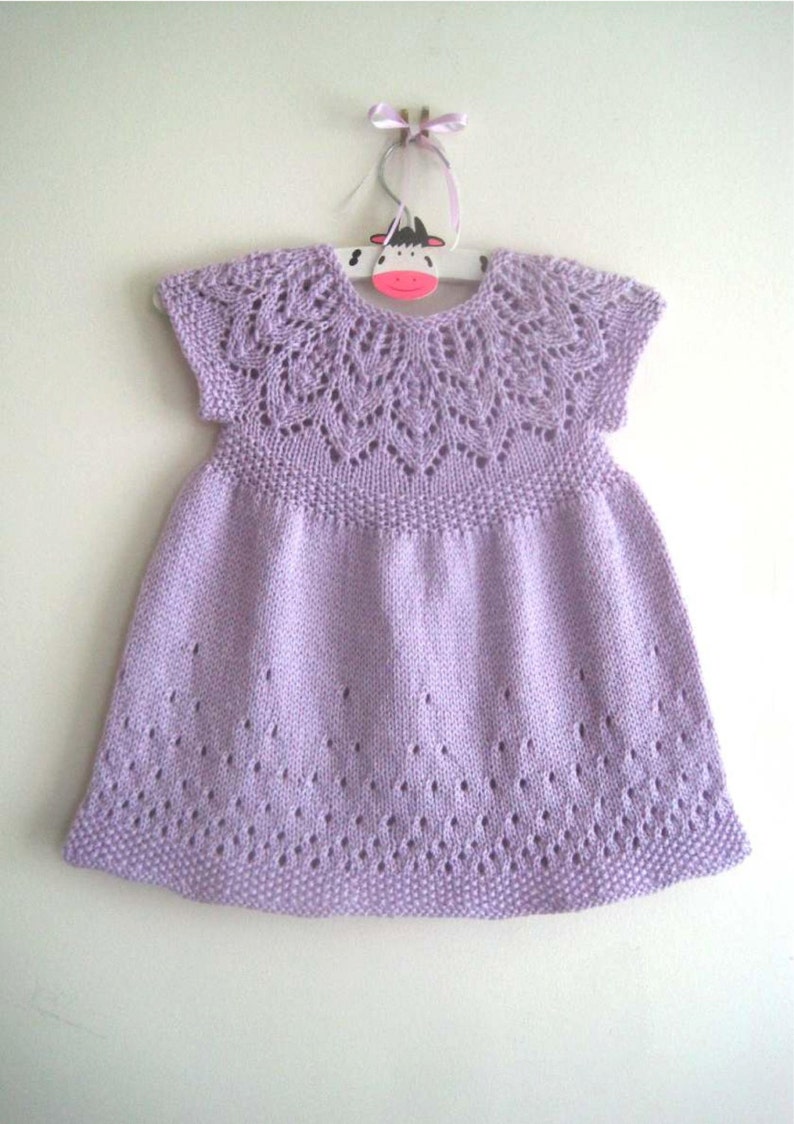 Baby Dress Knitting pattern, Girls lace dress knitting pattern

Beautiful Little Ophelia Baby Dress Knit Pattern
A precious little short sleeved baby dress knitting patterns, with lace and a textured pattern. Comes with instructions for multiple sizes. This  baby dress knitting pattern is available for instant download. 
Ophelia dress FREE Baby Girl Dress Pattern
Beautiful Fairy Leaves Baby Dress Knit Pattern
One of the most Absolutely beautiful lace design baby dress knitting patterns I've seen. Be sure to use a soft light weight baby yarn so the pattern will really stand out. And I would think a solid color would work best for showcasing your work. Truly a heirloom piece that will be loved by all. This is a Free Pattern that is available for instant digital download.
FAIRY LEAVES DRESS, 6 MOS, LITTLE RED WAGON – FREE Knitting Pattern
Sweet Top Down Short Sleeve Baby Dress Knitting Pattern
The fact that this is one of the top down Baby dress knitting patterns means it will be easy for you to complete. Once you get the neck and sleeves done, it will be complete before you know it because it is easy knitting. There is some eyelet decorative knitting on the bodice that makes it very feminine. But it is a straight forward little piece that will thrill anyone you give it to and you will have all the fun of knitting it.
Materials:
Yarn  –  a soft pretty baby yarn, about 32 g  
Straight Single Point Knitting Needles  – 4mm
accessories: 2 small buttons
Tension: 22 stitches equals 4 inches.
Pattern:
Cast on 56 sts
Rows 1 & 2   Sl 1, knit to end
Row 3           Sl 1, k1, yo, k2tog (makes a buttonhole), knit to end of row
Rows 4 & 5    Sl 1, knit to end
Row 6           Sl 1, k3, purl to last 4sts, k4
Row 7          Sl 1, k5, * yo, k4, repeat from * to last 2sts, k2                          68sts
Row 8           Sl 1, k3, purl to last 4sts, k4
Row 9           Sl 1, knit to end
Row 10          Sl 1, k3, purl to last 4sts, k4
Row 11          Sl 1, knit to end
Row 12          Sl 1, k3, purl to last 4sts, k4
Row 13          Sl 1, k5, * yo, k1, yo, k4, repeat from * to last st, k2              92sts
Row 14          Sl 1, k3, purl to last 4sts, k4
Row 15          Sl 1, knit to end
Row 16          Sl 1, k3, purl to last 4sts, k4
Row 17          Sl 1, knit to end
Row 18          Sl 1, k3, purl to last 4sts, k4
Row 19          Sl 1, k1, yo, k2tog, (makes a buttonhole),  k3, * yo, k1, yo, k6, repeat from * to last st, K1 (116 sts)
Row 20          Sl 1, k3, purl to last 4sts, k4
Rows 21, 22, 23, 24            Sl 1, knit to end
Row 25          Sl 1, k18, bind off 21sts, k35, bing off 21sts, k18
Row 26          Sl 1, knit to end
Row 27          Sl 1, k3, *(k2, m1) repeat from * to last 6sts, k6     (106sts)
Row 28          Sl 1, k3, purl to last 4sts, k4
Row 29          Sl 1, k5, * yo, k2tog, k1, repeat from * to last 4sts, k4
Row 30          Sl 1, k3, purl to last 4sts, k4
Row 31          Sl 1, k1, yo, k2tog (makes a buttonhole), knit to end of row
Row 32          Sl 1, k3, purl to last 4sts, k4
Row 33          Sl 1, knit to end
Row 34          Sl 1, k3, purl to last 4sts, k4
Row 35         Sl 1, k5, * yo, k2tog, k1, repeat from * to last 4sts, k4
Row 36          Sl 1, k3, purl to last 4sts, k4
Row 37          Sl 1, knit to end
Row 38          Sl 1, k3, purl to last 4sts, k4
Row 39          Sl 1, knit to end
Row 40          Sl 1, k3, purl to last 4sts, k4
Row 41          Sl 1, k5, * yo, k2tog, k1, repeat from * to last 4sts, k4
Row 42         Sl 1, k3, purl to last 4sts, k4
Row 43          Sl 1, knit to end
Row 44          Sl 1, k3, purl to last 4sts, k4
Row 45          Sl 1, knit to end
Row 46          Sl 1, k3, purl to last 4sts, k4
Row 47          Sl 1, k5, * yo, k2tog, k1, repeat from * to last 4sts, k4
Row 48          Sl l 1, k3, purl to last 4sts, k4
Row 49          Sl 1, k1, yo, k2tog (makes a buttonhole), knit to end of row
Row 50          Sl 1, k3, purl to last 4sts, k4
Row 51          Sl 1, knit to end
Row 52          Sl 1, k3, purl to last 4sts, k4
Row 53         Sl 1, knit to end
Row 54          Sl 1, k3, purl to last 4sts, k4
Finish by knitting 5 rows
Cast off loosely
Darn away ends
Sew on buttons
If you would like to download this pattern for your project. Click Here
More Baby Dress Knitting Patterns From Amazon
Haven't Found What You Were Looking for? Search Again Here:
Use Our Free Gift Finding Tool Below: