(THIS POST PROBABLY CONTAINS AFFILIATE LINKS. OUR FULL DISCLOSURE POLICY IS REALLY BORING, BUT YOU CAN FIND IT HERE.)
A Baby Knitting Pattern Offers Limitless Opportunities to Enjoy Your Knitting Experience
Whether you are new to knitting or an old pro, a baby knitting pattern is one that almost always tugs at the heartstrings. There are very few things that are sweeter and more fun to knit than baby blankets for a baby yet to be born or newly born.
These sweet baby blankets just seem to fly off the needle whether you are using an easy baby knitting pattern or a more advanced pattern. If you want something more challenging there are plenty of baby knitting patterns all over the internet and at your local knit shop.
Precious Knit Blankies for Baby
Our Best Knit Baby Afghans
Knitting Baby Blankets
Our Best Baby Afghans
&
Many times when you purchase yarn, the manufacturer will provide a pattern on the packaging, and many times it is a baby knitting pattern. In fact, they work very hard to make patterns that are ideally suited for specific yarn. I do recommend using the yarns recommended whenever possible in order to encourage these companies to continue to provide these patterns to consumers at no cost.
But in reality, most knitters have a stash of yarn, and honestly, I frequently will dig through my stash and find something pretty and just go for it. Baby yarn is necessary for baby patterns because you are protecting the baby, but you can get away with almost any yarn for most patterns. So as I always say, just have fun.
If you are looking for something a little different than a blanket to knit for babies, try finding a baby knitting pattern for a newborn hat or booties. These projects are generally quick to finish and a lot of fun. In fact, you can probably knit one to completion while waiting in the waiting room for the baby to make his or her debut.
Here are Some Fun And FREE Patterns for Beautiful Baby Blankets
Free Garter Rib Baby Blanket
Purls and Triangles
Simple Worsted Moss Stitch
Knitting Baby Booties  Gorgeous Choices
Knit baby booties: 14 designs (Leisure arts leaflet)
Little Knits for Little Feet: 30 New Baby Booties
Baby Booties and Socks: 50 Knits for Tiny Toes
Knitting for Little Feet: 40 Booties, Socks, and Slippers for Babies and Kids
Knitting can be a relaxing hobby it can also be a very challenging way in which to pass your time. Make sure, especially if this is your first knitting project, that you choose a baby knitting pattern that matches your abilities. In addition to choosing the right pattern, you want to make sure that you have all the extras you will need.
Follow the instructions on your baby knitting pattern in order to find out what size knitting needles, what type of yarn, and any other items you may need such as stitch markers. If you follow the instructions and have chosen an appropriate difficulty, you will be well on your way to a beautiful heirloom for some lucky baby. Baby Bootie Knitting Patterns are a wonderful place to start with enhancing your knitting skills.
I have also written an article on What is the Best Yarn For Knitting Baby Blankets, or actually any other baby item, which you may find helpful.
Beautiful and Really Sweet FREE Baby Booties as Pretty as Any
Bunny Booties Knitting Pattern
Mary Jane Baby Booties Free Knitting Pattern
Newborn booties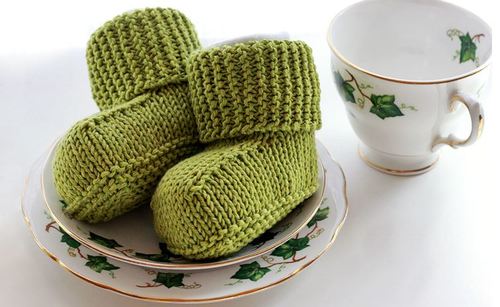 Bitty Baby Uggs
Very Cute Baby Knitting Pattern For A Baby Blanket From Annie's Craft Store
 Cradle Me Blanket Knit Pattern
Baby and Little People Clothing is Fun To Knit Over and Over
Sometimes it is a good idea to buy some patterns that have multiple sizing offered in the pattern. If you discover that you enjoy that pattern or it is an easy knitting pattern that you can easily complete, you might knit it more than once. You could choose different yarn, color and textures and then knit it again as the baby grows.
Baby clothing is so small and so precious and yet so fleeting. Most babies will grow into and outgrow many outfits during their first year of life. While knitting isn't exactly a cheap way to go, you can knit clothing for special occasions with whole skeins of yarn and even have fun knitting sweaters, hats, and such for babies out of remnant yarns that are similar in textures and weights. The trick always comes down to finding the one baby knitting pattern that will grow with your baby.
ANNIE'S SIGNATURE DESIGNS: Happy Cheer Cardigan Knit Pattern
&
&
Lovely Baby Sweaters Free Knit Patterns
Baby Sophisticate Free Knitting Pattern
Puerperium Baby Cardigan Free Knitting Pattern
Watermelon Baby Cardigan Free Knitting Pattern
Little Coffee Bean Cardigan Free Knitting Pattern
Tips For Helping With Your Knitting Success
If you plan to knit many clothes for your children or even as gifts for other people's children, I recommend keeping a notebook with a sample of the yarn and the care instructions for that particular yarn. If giving the clothing as a gift, be sure to slip the parents this information as well. You can simply tape the yarn label to a piece of notebook paper with the yarn beside it if you need to and hand it to the parents at an appropriate moment. This will save lots of worry and a few garments from accidentally becoming baby doll clothes.
A baby knitting pattern is often the most enjoyable to select. These patterns can also be quite frustrating to choose as well, they are all simply too cute for words and choosing just one when there are so many is often quite difficult. My suggestion for this is narrow the patterns down to 3 or 4 that you really like, then look at the difficulties of each pattern, the materials required for each pattern, and how interesting each pattern looks to knit. This will help you narrow your choice significantly. If all else fails, buy them all, I'm sure you'll have the opportunity to use them eventually!
Take A Look At This
Haven't Found What You Were Looking for? Search Again Here:
Use Our Free Gift Finding Tool Below: