(THIS POST PROBABLY CONTAINS AFFILIATE LINKS. OUR FULL DISCLOSURE POLICY IS REALLY BORING, BUT YOU CAN FIND IT HERE.)
Perfect Knitter's Gifts for Every Knitter
You May not think it is important, BUT…every knitter loves knitter's gifts, seriously, of any kind, style, or price, whether they are experienced or  beginner knitters.  The idea is that you cared enough to respect their passion, Knitting.  So if you want to show your knitting wife, girlfriend, sister, mother, grandmother, brother, best friend, next door neighbor, total stranger on the street…if they love knitting and they are somehow in your life, these must have gifts are perfect for them! You've got this 'love my knitter' shopper! Now get shopping!
Best Must Have Knitting Gift Ideas
A beautiful knitting tool makes all the difference in winning the heart of the knitter you love. One thing all knitters hate is to have their stitches fall off the end of their knitting needle when they have put the work they've done in their knitting project bag and the next time they have time to knit. BAM! the needles have let the stitches fall off.
Well a seasoned knitter will just patiently fix the stitches, a beginner knitter will give up and rip it all out and maybe start over. But the absolute Best case scenario is that the knitter had Needle Point Protectors which stops the stitches from falling off and your favorite knitter simply picks up their knitting and knits on. This is a practical but beautiful gift that will be well loved.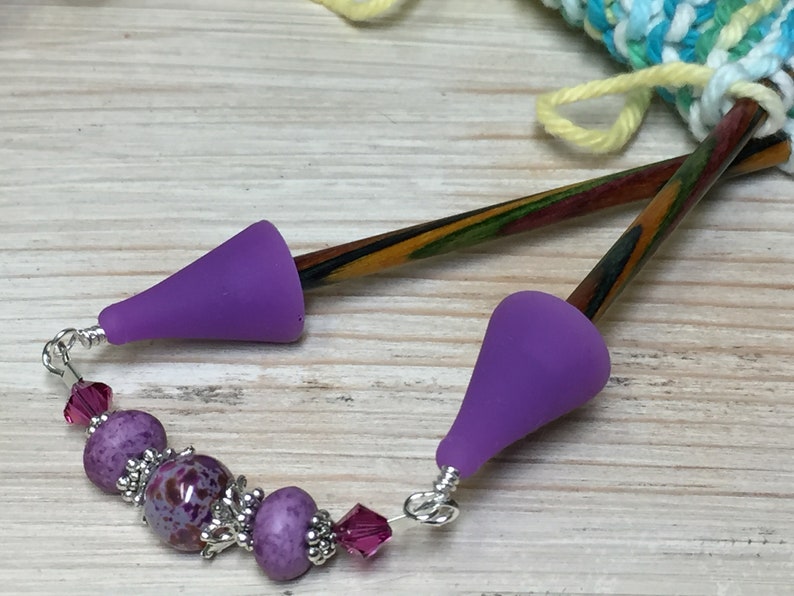 Beaded Point Protector Cover for Knitting Needles

Must-Have Tools Every Knitter Needs
This is a beautiful large knitting bag that can hold all the knitting essentials. It has a gorgeous nuts, berries  and leaves in Autumn colors, but it would be beautiful all year long. The interior has the same autumn lining. The long front pocket has a very handy magnetic clasp. Plus there are three interior pockets! Every knitter loves organization.
This bag is approximately 19″wide x 11.5″tall x 4.5″ base. The shipping is free The knitting bag is hand made and only makes one of each one so that they remain unique, but she has several of different colors in her store. The unique factor is really appealing.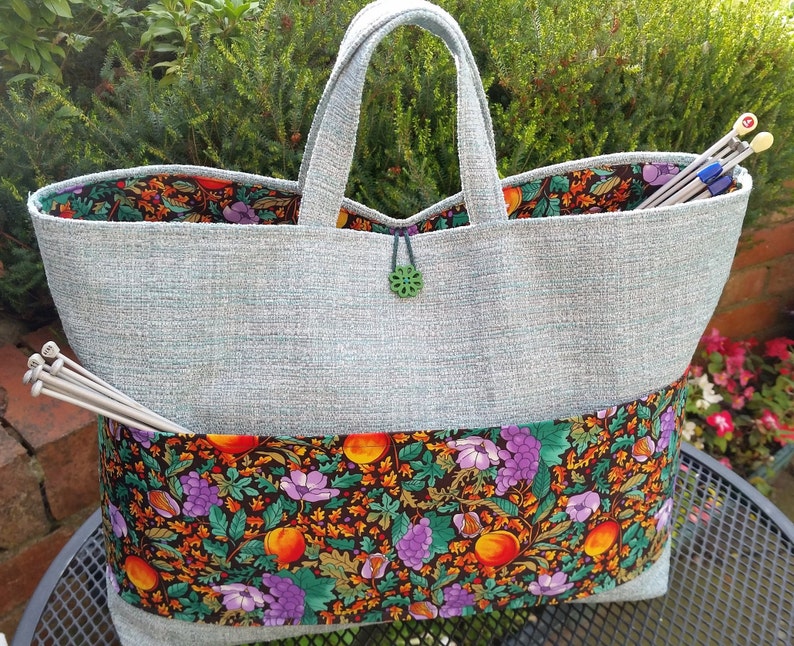 Large Green Knitting Bag, Autumn Theme Pocket, 3 Inner Pockets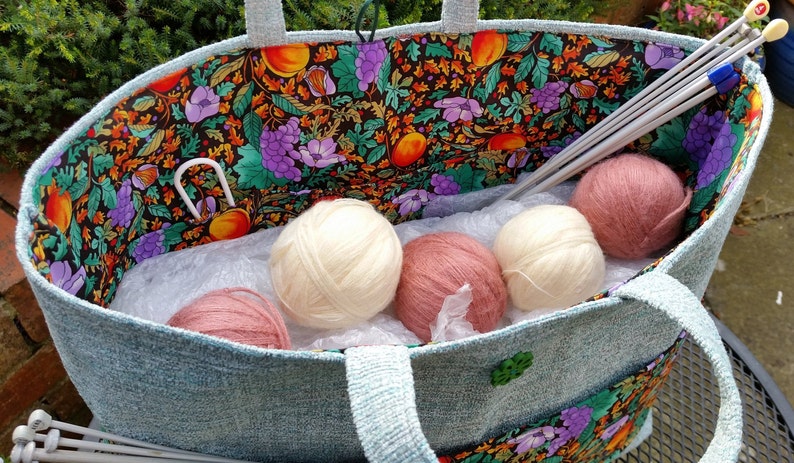 Large Green Knitting Bag, Autumn Theme Pocket, 3 Inner Pockets

Knitting Themed Gifts Are Always Appreciated by Any Knitter Experienced or Beginner
Every knitter has a set of straight or single point knitting needles. And a wooden set is very much loved. It warms to the feel of your hands. After awhile they actually seem to recognize your hands. Plus they are just beautiful to work with. But a storage case is essential. You don't want to have your needles broken or lost. And whether short or long this handmade case is gorgeous and useful. Your Knitter friend can even store her crochet hooks, double point needles or cable hooks in this case. It is Gorgeous and she will love it!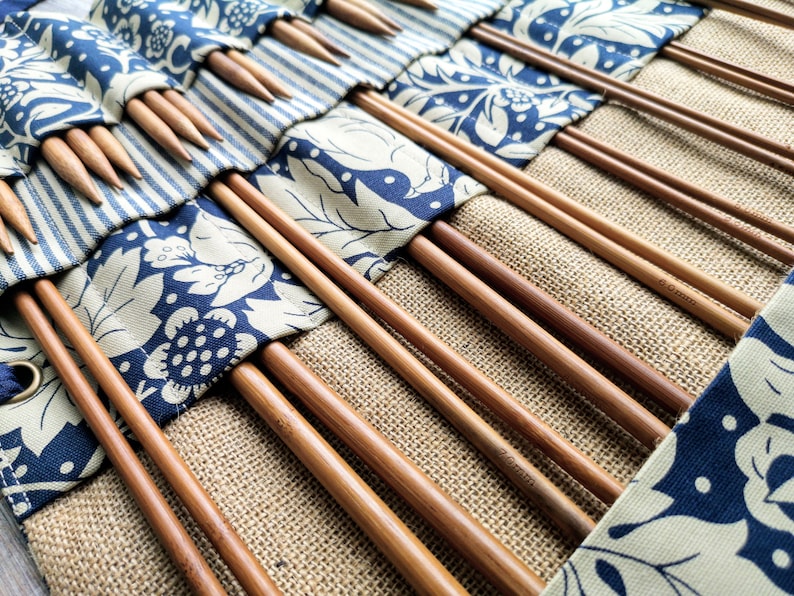 STRAIGHT NEEDLE CASE Large Extra Sturdy Knitting Crochet Hook Dpn Needle Holder Roll

Gorgeous Circular Interchangeable Needle Set
If your favorite knitter has not tried knitting in the round or they love it and would truly appreciate a gorgeous matching multiple sizes and beautifully colored set. Then this is your best pick. You Must trust me on this one. I have this exact set and I love it and I use it almost exclusively.
It has 24 inch and 32 inch cords included which can be connected together to make any size cord the pattern calls for. The tips of these needles are very smooth and beautiful to work with, also the joins of the cord to the needle tip is smooth and never snags the yarn. I love these needles and I love KnitPicks so don't hesitate on this one.
One small tip for you. For whatever reason, there is not a cable joiner included in the kit. Your favorite knitter will be very disappointed that they can not join the cords to different lengths. They will need this little connector. It cost less than $2 but it is worth a lifetimes of smiles from the knitter in your life. You can get it here to add to this gorgeous gift of beautiful circular needles.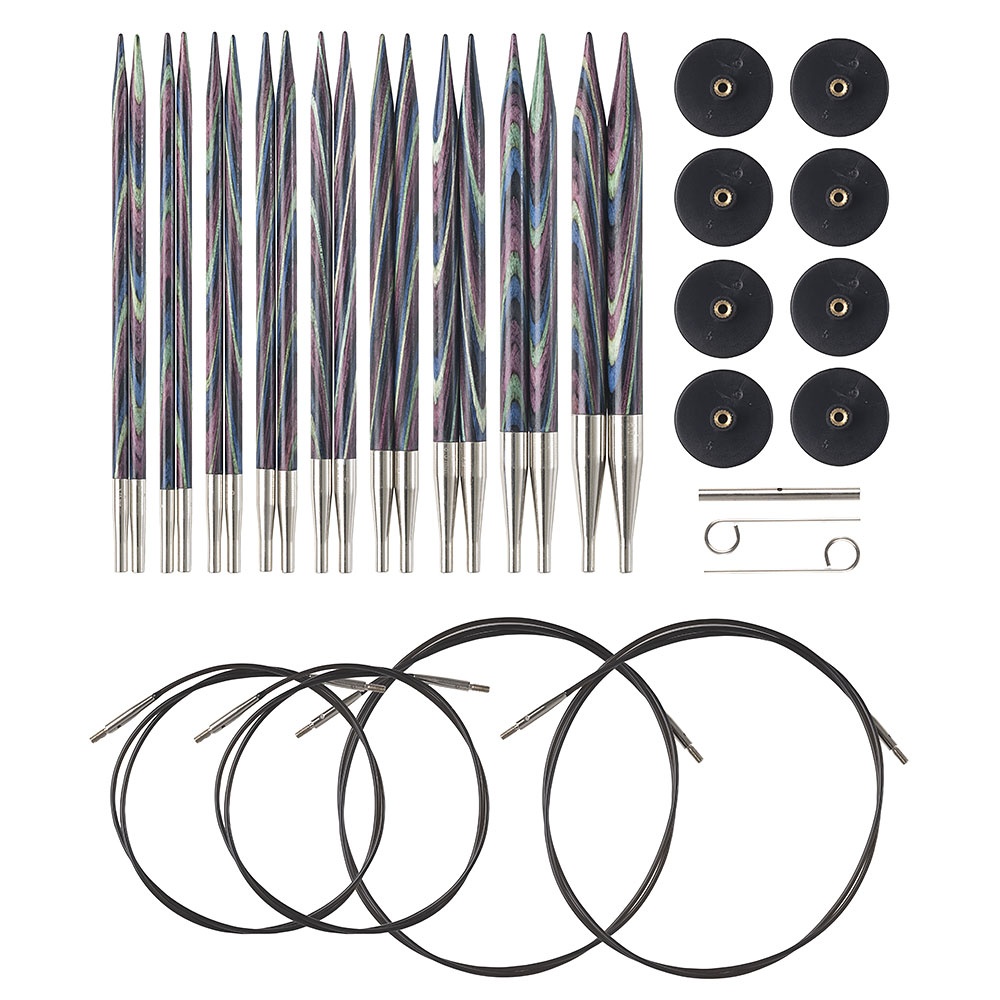 Options Interchangeable Majestic Circular Knitting Needle Set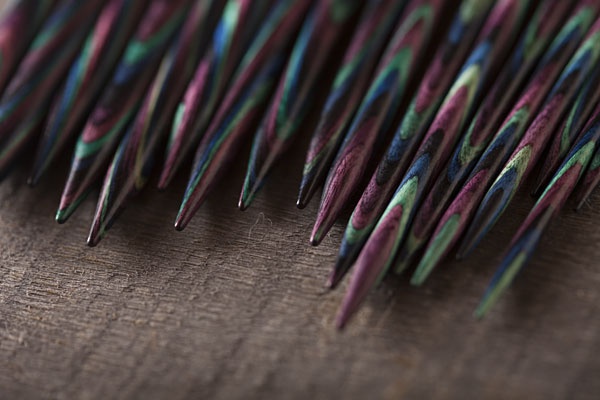 Options Interchangeable Majestic Circular Knitting Needle Set
A Stunning Must Have Knitting Gift Unique and Very Useful
No one but a Knitter truly understands the beauty and usefulness of this amazingly beautiful and one of a kind creation, yarn bowl. These ceramic yarn bowls are hand made, so no two are exactly alike. But that is the beauty of it all. And the little curly q allows for a quick change of yarn colors as needed. I love these bowls and think they are a perfect gift for any one that loves knitting or a knitter in their life.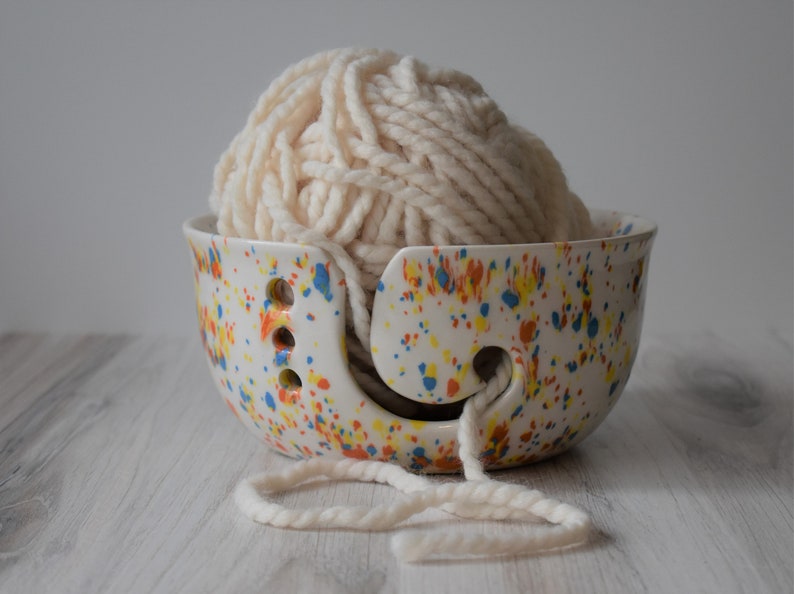 ceramic yarn holders, large yarn bowl for knitting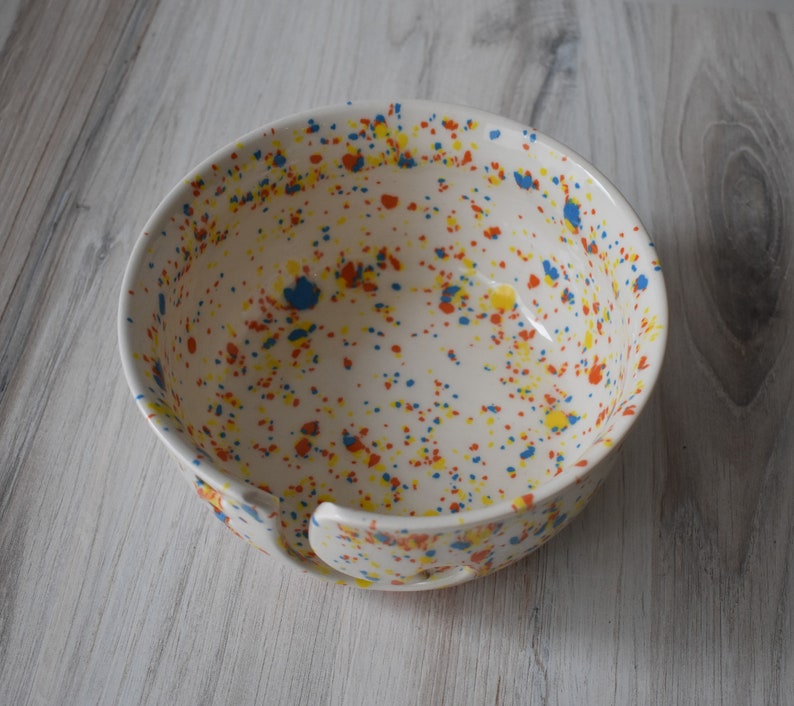 ceramic yarn holders, large yarn bowl for knitting

 Must Have Knitter's Gift Cable Knitting Needles
Maybe this doesn't look like much, but let me tell you, you'd be wrong. These are a must have basic tool of all knitters and a great knitter's gift, especially if they love knitting cables like I do.  But these are special. My favorite cable needles for several reasons.
These needles are made from laminated birch wood and are so smooth that your cable knitting will be effortless. Also they are the right length to make it easy to work with. Have a double point means you can take your stitches to the front or the back as directed and hold them without using the curved or hooked cable needles which may look like they hold the stitches securely but they are very difficult to work with and knit those stitches off the cable needle.
Having the double point straight needle is simply like having another knitting needle. It is just such a smooth transition. These are also grooved, so you will not loose your stitches while waiting to knit them.
And these needles are the perfect three sizes. US size 3, 6,and 9, small medium and large. Which is all you need. It is not necessary to have a needle the exact size of the pattern you've been working with, you just need a size close enough. Seriously, just close enough. These are the ones you want.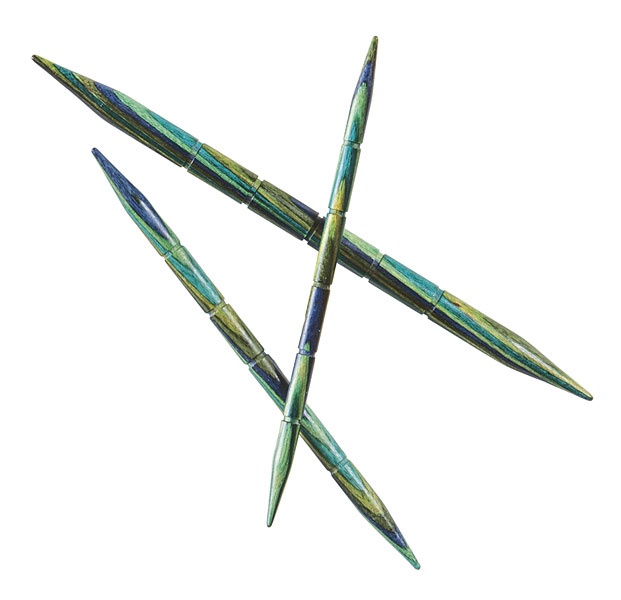 Options Caspian Wood Cable Knitting Needles
The Perfect Circular Knitting Needle Storage Solution
As much as most knitters love circular knitting needles of all sizes and colors, it is a royal pain to store them. Interchangeable needles and cords are an even more challenging. You need to be able to find the size needle and length of cord for the project at hand. And as already discussed, Knitters love their tools and knitter's gifts that solve a problem are even more loved.
This organizer has another feature that is very desirable, It doesn't take up much space in their knitting bags and the pockets extend out and can hold many sets as well as the pockets can hold knitting notions such as stitch markers or scissors or any of the notions that need a place not to be lost in.
Another beautiful thing about this storage solution is that the entire case is customizable. The color, number of pockets you want, even the size of the pockets. All you have to do is let the Etsy designer know what you want. One of the most amazing Knitter's gifts I know.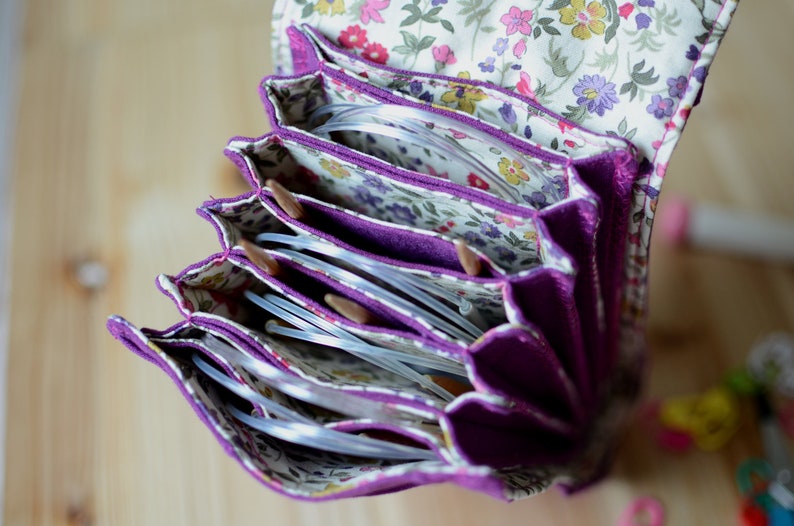 circular knitting needle storage with a zipper pocket great gift for mom knitters

Every Knitter Loves the Perfect Beautiful Unique Straight Knitting Needle Pair
Maybe it doesn't look like much to the non-Knitter's eye, but these beautiful hand crafted walnut wood straight, single point knitting needles are a joy for any knitter, and a perfect knitter's gift. It's like yarn, no knitter can have enough. But starting with these would make the knitter in your life think they've entered nirvana.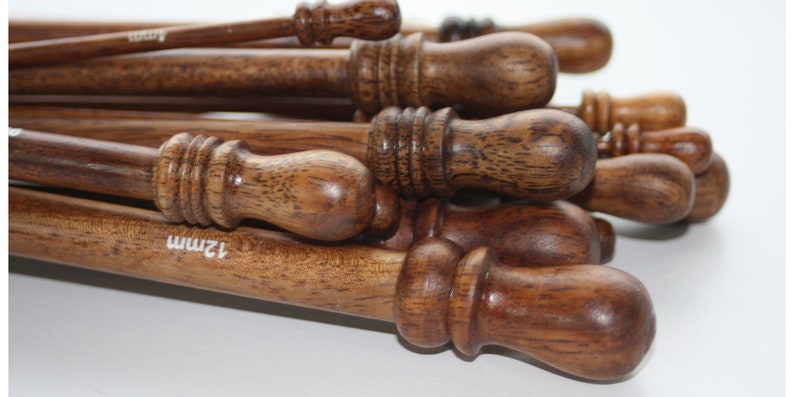 10in (25cm) long Albizia Knitting Needles (East Indian Walnut)

Sometimes a Little Humor Can Go a Long Way in Pleasing a Happy Knitter
This Mug is meant for coffee or tea and the stains wash away easily. And the mug is created with long lasting, fade resistant inks, that won't scratch, and you can even use it in the microwave. Knitting and sipping tea or coffee can make for a very happy knitter.
The t-shirt is durable but soft and comfortable. The garment is made to last, machine washable and the ink used is meant to stay put through many washings. Let the knitter in your life make a statement about the craft she loves while knitting her next knitting project. A great to show support with this great knitters gift.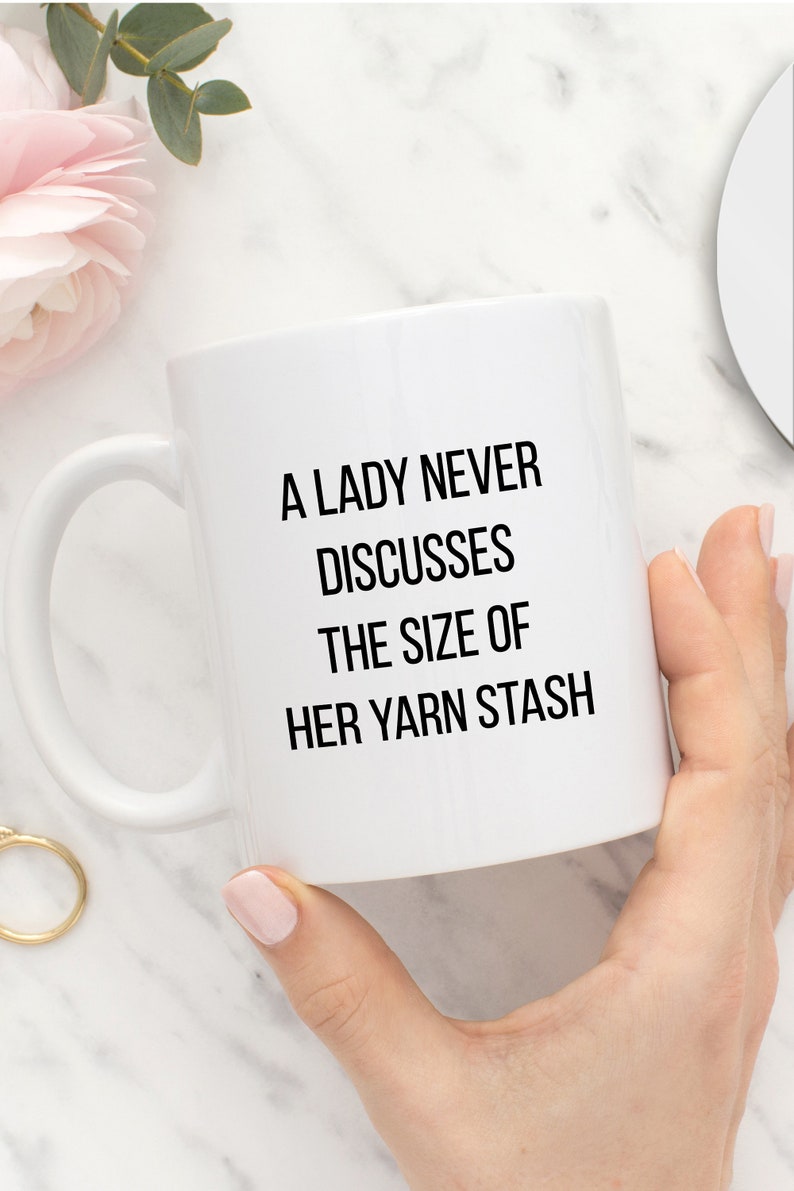 Knitting Gifts – Knitting Mug – Knitting Coffee Mug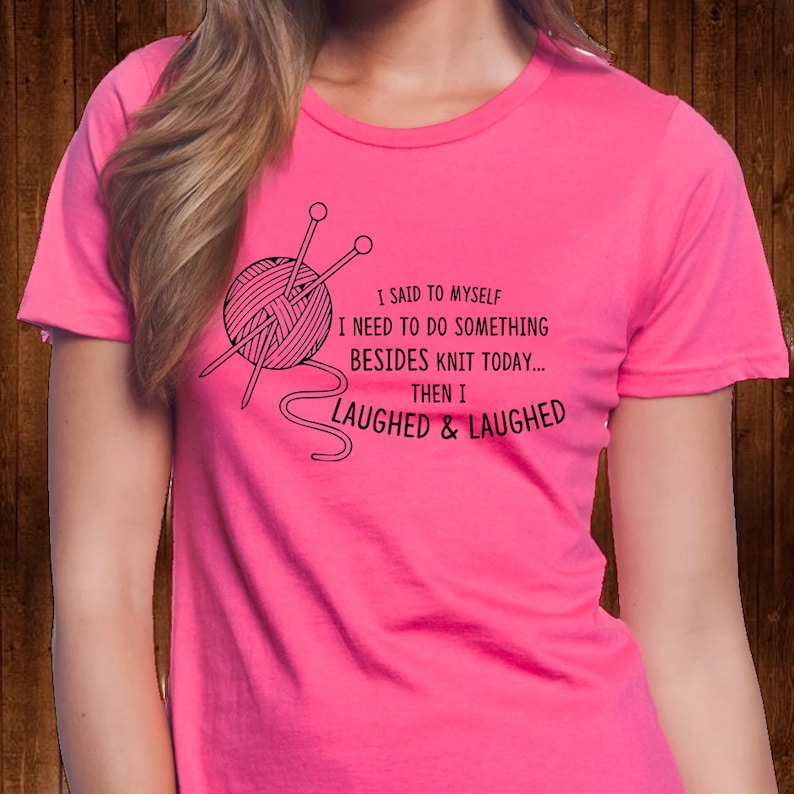 Funny Knitting Shirt- Knitting Shirt – Knitting Gifts

A Small But Powerful Knitting Accessory that is Often Overlooked but Makes the Perfect Knitter's Gift
A beautiful hand made set of 8 shiny blue and gold glass bead stitch markers. I say they are often overlooked because they are small and sometimes a pattern will ask for a stitch marker but the knitter didn't notice the need until they were into the pattern.
The reason this is such a perfect knitter's gifts is because they are gorgeous, unique and not an ordinary plastic stitch marker. Both will get the job done, but why should your special knitter be ordinary. Give this gift of style and class. The knitter in your life will truly love these little baubles.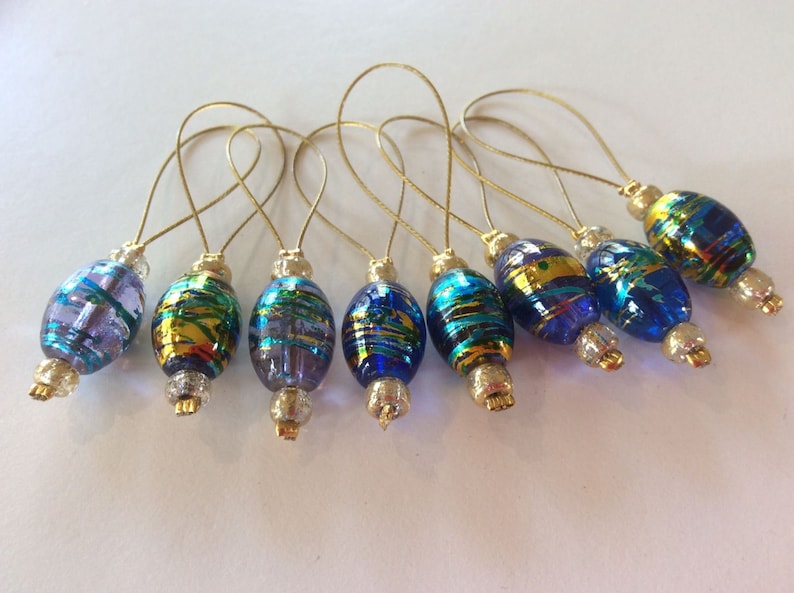 8 beautiful glass bead stitch markers, Shiny blue markers for knitting

The Obvious Knitter's Gifts That All Knitter's Need – An Addition to Their Yarn Stash
This is the most obvious gift of all. The most wanted gift all Knitters love to receive is Yarn! all styles, all colors, all amounts. Doubt not! any Knitter worth their salt will know how to use it and will love every minute of it. Don't hesitate to get yarn as the best gift ever for the knitter in your life.
KnitPicks.com is my favorite place to buy my yarn, so I chose a couple of choices but once there you can search all you want. Just think about the knitter, the colors they like to wear, how they decorate the home, what color car do they always seem to buy. or just ask them. But trust me, you can't go wrong with yarn.
Brava Sport Yarn
Upcycle Reserve Alpaca Blend
The Ultimate Knitter's Gift Must Have Yarn Swift and Yarn Ball Winder
What in the world?! you say, I know, I know, You think I'm just getting silly now with these moon shot outer space gadgets. Well I'm not. First of all, you have to understand, we are talking about the knitter in your life. Whatever is cool, we want. Let me tell you what these are and best yet, KnitPicks has made a video to explain it even better. But trust me, this is a great knitter's gift and your knitter will love it.
The first picture is the center pull ball winder. Nice yarn is sometimes sold in what's called a hank. It is a long wound around yarn. Not in a nice tight ball ready to use. Let me tell you from experience that is a cruel thing to do, give a hank of yarn to someone who doesn't have the tools to wind it into a beautiful center pull ball of yarn.
Oh well, here,  just watch the video, you'll understand much better (down below the pictures of the ball winder and the swift)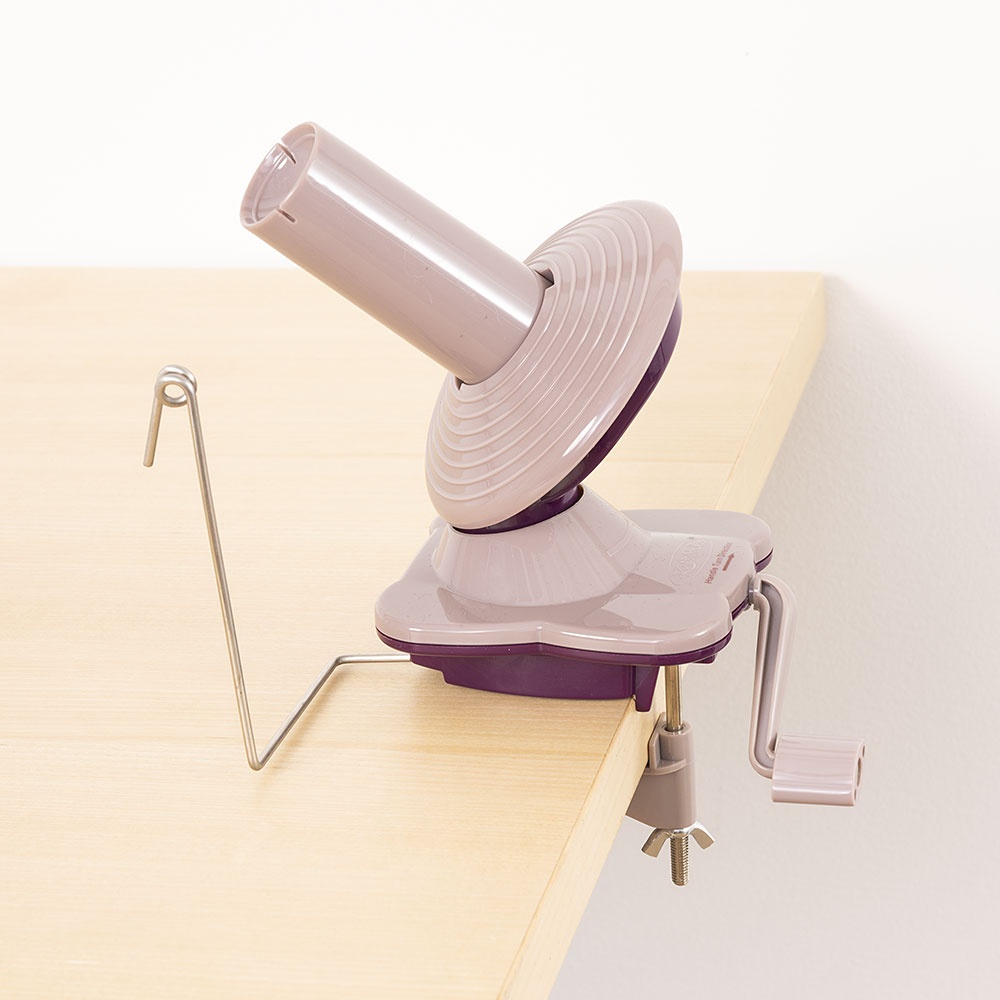 Yarn Ball Winder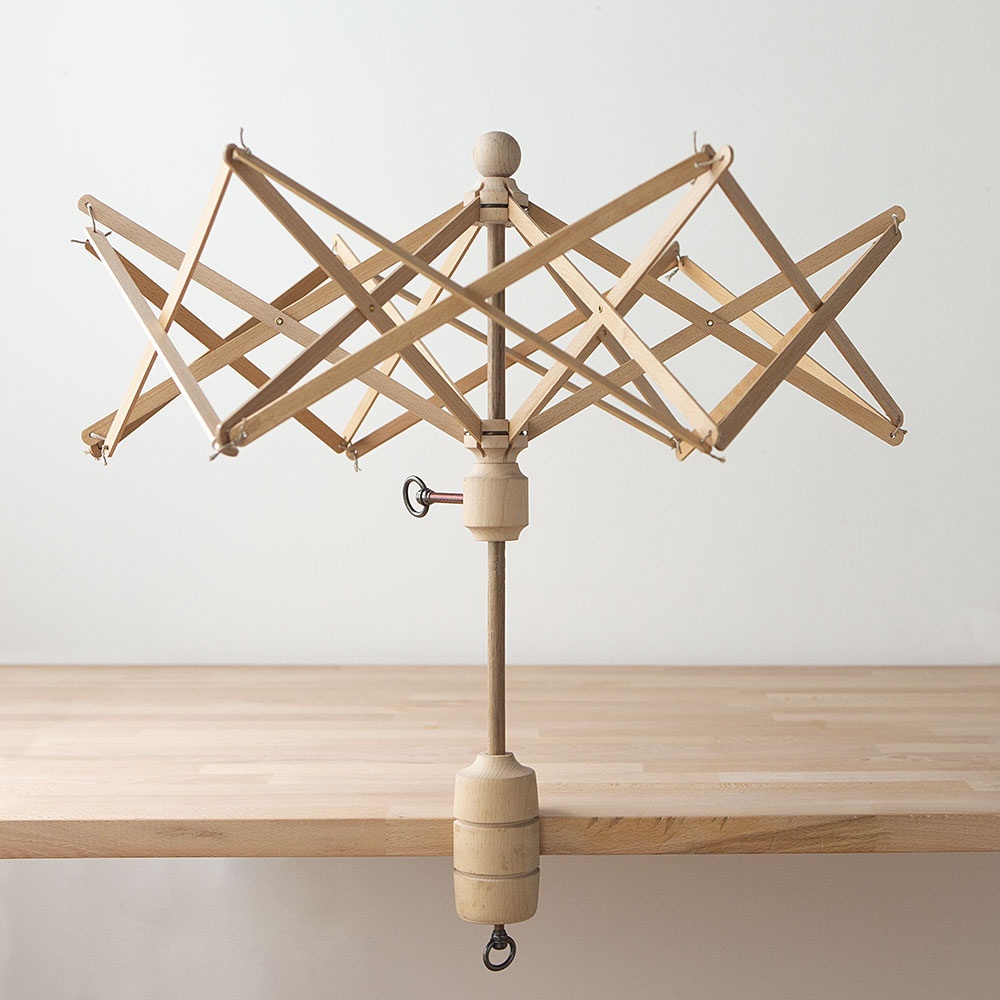 Yarn Swift – Birch
Winding Yarn with a Ball Winder and Swift (Video)
Which of These Amazing Knitter's Gifts Will You Choose
So, there you have it! 15 amazing and exciting knitter's Gifts for you to choose from for the knitter in your life. Each one offers a different level of desire and need. The best thing I can tell you is that you can't go wrong with any of them. So enjoy your shopping experience and I just wish I could see the joy on the face of the person you will be gifting.
Haven't Found What You Were Looking for? Search Again Here:
Use Our Free Gift Finding Tool Below: