(THIS POST PROBABLY CONTAINS AFFILIATE LINKS. OUR FULL DISCLOSURE POLICY IS REALLY BORING, BUT YOU CAN FIND IT HERE.)
Cable Knitting Without A Cable Needle
Cable knitting without a cable needle takes the fear of cabling away. How many times have you wanted to knit some cute baby pattern but it required you to make cables. I am not sure why, but we knitters are afraid of cables.
Maybe it is because we have to use THREE needles. Yes! Two knitting needles AND a cable needle. And sometimes you can't find the cable needle that is the same size of the needles you are doing the main knitting. So you just sort of fake it and make do with the size you have.
Well I am thrilled to share with you a fantastic find. Cabling without a cable needle. The following very short video explains how it is done. And the amazing thing you could adapt this to any baby knitting pattern, Use it as a trim or a part of the main body. Explore the possibilities. This makes an easy knitting pattern out of something more complicated. It is really cool!
I hope you become as excited about this as I am. Go knit something!
My Own Personal Exam of Both Styles, Cable Needle or No Cable Needle
Below is my knitting of a 2 over 2 cable, the one on the right is cabling without a cable needle. the one on the left is using a cable needle. I have to tell you, in my view there is no difference whatsoever. But I have to tell you this too, after picking up my needles and trying them both out. I have definitely made up my mind as to which one will continue in my knitting arsenal. It's not fair for me to tell you that right now because I don't want to persuade your thoughts. But I really do encourage you to give it a try, especially if you are avoiding doing cables because you are worried about that third needle.
Yes! You can Knit Cable and Not Use A Cable Needle- Video by KnitDenise
This is a video that is done to show you the cabling without the cable needle if you are a Continental style Knitter. Also, she uses what's called the pinch method to control the loose stitches while they are off the needles which can actually be a pretty scary thing. Some knitters actually prefer the cable needle for that very reason, you don't have stitches that are liable to get lost.
But you do have to mess with that third needle. It is entirely up to the preference of the knitter. But like I always say, you won't know till you know all your options. So you decide once you are educated. Enjoy this quick video.
Cable Knitting Without A Cable Needle By Knit Purl Hunter
This video is a clear demonstration of how to do cabling without a cable needle, but the knitter is using English knitting or she is throwing her yarn. This will work for those that are not Continental knitters. Also, to me, this seems just a little easier to manage those loose stitches for the few seconds they are off your needles. Watch this video and see what you think.
Related:
Continental Style Knitting for Beginners
A Comparison of Two Methods of Cabling Without a Cable Needle by Suzanne Bryan
This is a very wonderful video because you can tell that Suzanne has a real love of Knitting and one of the commenters on her video even commented that it was very clear as usual. So she has some loyal viewers. Anyway, she shows two techniques, and she does side by side demonstrations of English and Continental style knitting showing the same thing using the two styles.
Now the second technique she shows in the second half of the video. And although there is a moment where the stitches are loose, this second method seems less likely that you might lose one of those stitches. It is going to completely depend on your practice to see which one works for you. Or as I said you may just want to go back to using a cable needle which is perfectly fine. But I want you to have choices. Watch the video and see if you don't agree with me about Suzanne.
Which Do You Prefer? Cables With or Without a Cable Needle?
So the point of all this was to give you an education into choices. A knitter will usually run into cables at some time or another and you have to face it. And many times cables are as fearsome as knitting in the round. Sometimes a knitter will just get a different pattern rather than face it. But if you find out that their is an alternative to the dreaded cable needle you just might take a second look. I hope you give cables a try, whether you decide to use a cable needle or not. Enjoy your knitting! And if you wouldn't mind, I'd love to hear which way you liked the best and if you plan to do some cables!
Cables Untangled – An exploration of Cable Knitting
[content-egg module=Amazon template=item next =1]
Some Friendly Cable Free Knitting Patterns
Okay, so now that you can cable. Let's look at some cable patterns that will be fun to practice your new skills. I hope you enjoy and have fun!
Cable Scarf Knitting Pattern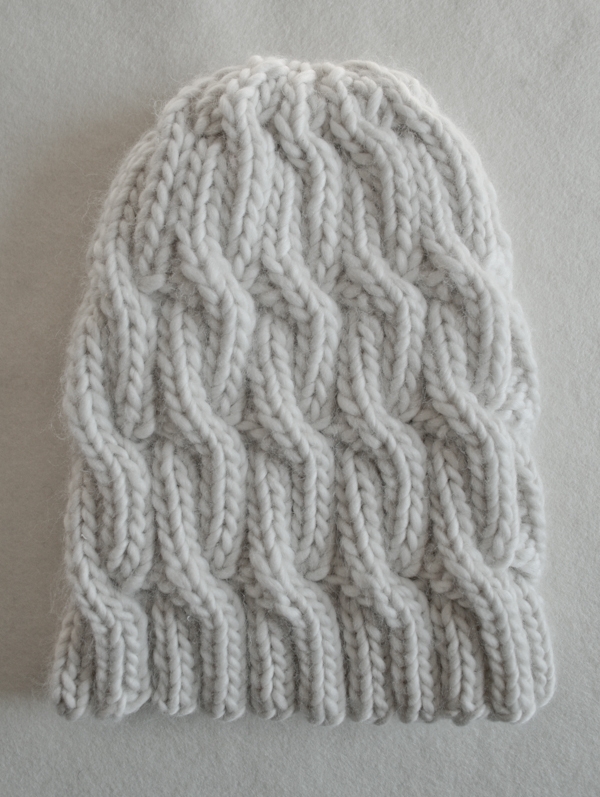 Chunky Cable Hat
HUGS AND KISSES CABLE KNIT BABY BLANKET
Quad Cable Scarf
Pin These to Your Favorite Pinterest Board


Have A Look At This

Haven't Found What You Were Looking for? Search Again Here:
Use Our Free Gift Finding Tool Below: