(THIS POST PROBABLY CONTAINS AFFILIATE LINKS. OUR FULL DISCLOSURE POLICY IS REALLY BORING, BUT YOU CAN FIND IT HERE.)

Easy Baby Blanket Knitting Pattern-No Need to Make it Difficult
An easy baby blanket knitting pattern is the perfect way to start knitting. A lot of times you may actually be brand new and really have never had any experience with knitting. Let's face it, knitting can be intimidating. An easy to knit pretty baby blanket knitting pattern is the perfect answer. And a quick to knit baby blanket free pattern really helps. This post has a free downloadable knitting pattern for baby blanket.
Well you need help. I didn't learn to knit
until I was an adult, actually in my late 20's which was a couple minutes ago for sure.  And it wasn't easy for me, but I was determined and I just kept trying. And worse yet, YouTube had not been born ye! But finally I found a knitting friend that had the patience to really put up with me and my mistakes and with that kind of encouragement I fell in love with this wonderful craft.  
Easy knitting patterns for beginners,  a baby blanket is truly a wonderful way to start knitting. So if you are a beginner don't be afraid to try a baby blanket.  There are no angles or corners or seaming to do, and you can frequently find one that will have only one or two knitting stitches. I have several really cute and easy baby blanket knitting patterns for you to choose from and keep scrolling because I have a couple gorgeous and FREE patterns for you too, just for fun.

In A Hurry? Or Curious? 
✅Find Your Perfect Easy Baby Blanket Knitting PatternHere
Easy FREE Vertical Lines Baby Blanket Free Knitting Pattern
&
For those who are a little timid about learning to knit this easy baby blanket knitting pattern is the pattern for you. Knit on extra large needles and using bulky yarn
this blanket is exceptionally beautiful, only basic knitting stitches are needed.  The first two stitches learned in knitting are knit and purl, these are the only two stitches used in this pattern. And they provide step by step photos for the beginner knitter. You can not mess this up and you are going to feel great being able to complete a beautiful knitting project. It will propel you into knitting more and more.
Two different sizes are included with this pattern, either a warm cuddly baby blanket or it can be a luscious lap blanket or couch throw both remarkably beautiful.
Buttercream is the color called for in this pattern which is gorgeous but you can use whatever color you think is prettiest or matches the decor of the nursery the baby will have. You will gain the added bonus of being completed very quickly because of the large needles and the bulky yarn. This stunning new blanket will be yours before you even know it.
(Get this easy baby blanket knitting pattern beginners and experienced knitters are going to love atEtsy.com)
Etsy.com has many beautiful easy baby blanket knit patterns. Known for their beautiful designs the Etsy artisans are unmatched. You will surely find exactly what you want with a search.  You can enjoy your own search by CLICKING HERE !
Beautiful Free and Easy 'Holding Hands' Baby Blanket Knitting Pattern
Holding Hands Baby Blanket – A Free and Easy Baby Blanket to Knit
Here Are Several Easy Knit Blanket Patterns – Easy AND Beautiful
Annie's patterns are known for being clear and easy to understand, they give you the extra explanation and help you need to be able to complete your project and create a gorgeous new baby blanket. These easy knitted baby blanket patterns are popular and definitely worth a look.
Sometimes the pattern can be simple repetitive stitches that makes for a very easy baby blanket knitting pattern, that way you can memorize them and then pay attention to the technique without having to worry so much about the order of the stitches. These baby blankets are well liked by the people who have tried them. Maybe one would work for you.  
Easy Knit Baby Blanket Collection 2 Pattern
Easy Knit Baby Blankets Pattern – Collection 1
Softest Baby Blanket Ever Knit Pattern
Ivy Blanket Knit Pattern
Garter Stripe Baby Blanket Knit Pattern FREE and Easy
Easy Free KNIT GARTER STRIPE BABY BLANKET
Top 3 Knitting Patterns Today:
Leisure Arts Baby Afghan Knitting Patterns

Leisure Arts is a well known leading source for excellent knitting patterns. They produce easy to understand knitting patterns and beautiful pictures of the finished product. Each pattern book has several great knitting patterns that you will have problem choosing which one to knit first. As well as several easy knitting patterns for baby blankets. You can't go wrong.
Buying Tip:Watch the above page for changing prices. If you are able to find these pattern books for under $15, that is a great price. Grab them!Check Current Price Here
Amazing and Unique Easy Fun Baby Blanket
PREMIER® PINWHEEL BLANKET Free Pattern
Fun and Traditional Easy Knitting Baby Blanket Patterns From Etsy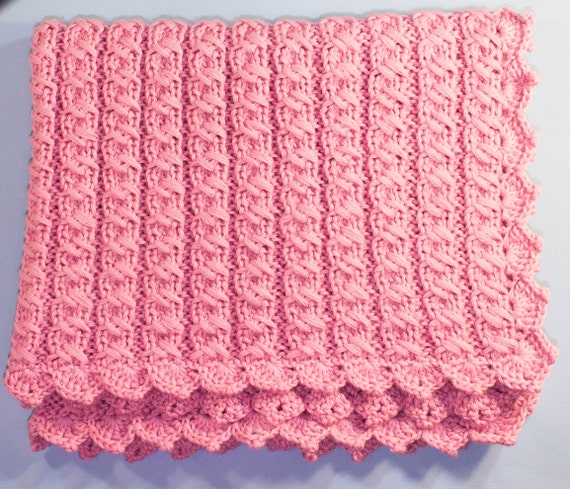 Easy baby blanket KNITTING PATTERNS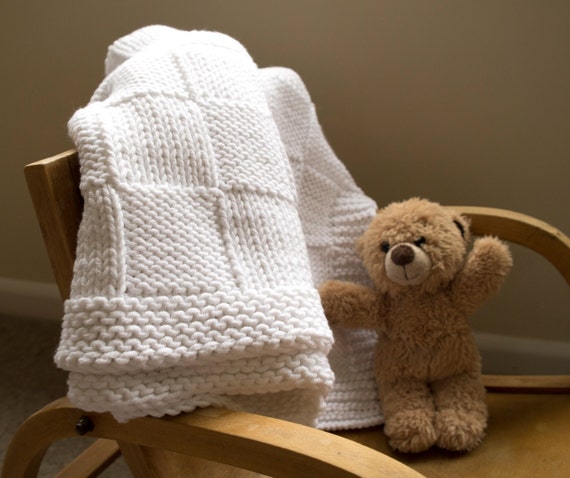 Baby blanket knitting pattern. Traditional basket weave blanket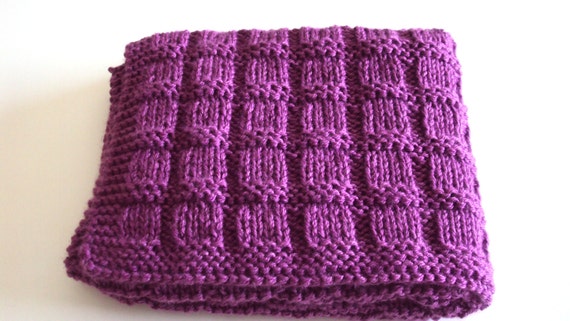 Easy KNITTING PATTERN Baby Blanket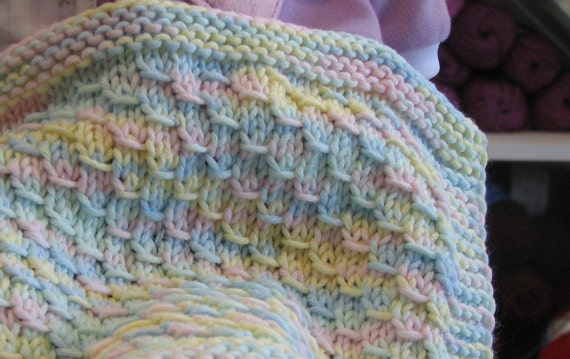 Dragon Baby Blanket, Easy level knitting pattern

These are all easy Knitting patterns that a beginner knitter could easily master. Etsy is known for making sure you will be successful with your efforts. And the results are truly beautiful and so wonderful for gifting the new mom. Make several to see always be ready for that next baby shower invitation.
✅
Click Here
to see all the beautiful patterns Etsy has to offer.
Beautiful Easy Free Baby Blanket Knitting Patterns
This Video is great for explaining the seed stitch, which is one of the most basic and first learned pattern stitches in knitting. The seed stitch is knit one, purl one all the way across the row. The on the returning row, reverse it and purl one, knit one. continue in this pattern until you reach the length you desire.  It is an excellent tutorial and under the video she gives you another Free Baby Blanket Knitting Pattern for you on her website. I'm sure you'll love it.  After all, easy baby blanket knitting patterns, FREE are more fun!
This Is A Really Beautiful And Easy Baby blanket Knitting Pattern And It's FREE
This free easy baby blanket knit pattern is so sweet and it is very easy. Some refer to these as baby afghan knitting patterns for beginners because they are so straight forward and simple for you as a beginner to grasp the concept.
I have the pattern below for you with some Videos to explain the stitches if you need help. Or you can get the pattern straight from Lionbrand.  -Baby blanket knitting patterns for beginners free  patterns are a great way to get into knitting and a great gift for a new little one.
Easy knitting pattern for baby blanket is not only beautiful it is going to be easily mastered by a beginner knitter for sure. Just simple yarn overs (yo) and knitting (k) and Knit 2 together (K2tog). And you only have to cast on five stitches to begin with. I love the ones that don't require a lot of stitches to cast on. You don't have to keep count and it is so easy to "grow" a pattern from a small number of stitches.
This pattern is from LionBrand , I've told you about them before. If you don't already have a membership you sign up for free then you will have access to tons of free patterns as well as their paid patterns. But even those are very reasonable.
Plus they recommend the perfect yarn for the project, but remember you can switch up the yarns and make this pattern truly your own. Never be afraid to experiment!
 

Here Is the Above Free Easy Baby Blanket Knitting Pattern From LionBrand
Here is the easy baby knitting pattern for beginners, free for you.  See how easy it is. It won't take anything for you to memorize the pattern and you will soon be seeing your baby blanket grow and become a wonderful creation for your own baby or a perfect gift at the ready for the next time you have need.
BLANKET
Cast on 5 sts.
Row 1: Knit.
Row 2: K3, yo, k2.
Row 3: K3, yo, k3.
Row 4: K3, yo, k to end of row.
Rep last row until you have 90 sts on needle.
Next (decrease) row: K2, k2tog, yo, k2tog, k to end of row.
Rep last row until 5 sts remain. Bind off.

FINISHING
Weave in ends.
 To get the recommended Yarns, Go On over to LionBrand.com
for this precious little blanket.
If you would like to download an ad free copy of the pattern, Click Here
You May Be Interested In:
Baby Blanket Knitting Pattern, Staggered Square – Free Pattern
A Beautiful But Easy Baby Blanket Knitting Pattern to Knit for Free, A Baby blanket knitting pattern solves the dilemma of what …
Here Is Some Help For You For The Stitches In The Pattern That May Be Unfamiliar (Videos)
View these two videos that will give you help with the knitting stitches YO and K2tog, that are used in this pattern.These are really basic and simple stitches. Knitting doesn't have to be complicated. Just  pause the videos and watch them again as you mimic making the stitch. You'll quickly pick up how to successfully navigate these two stitches. Easy knitted baby blankets free patterns, does not mean a little help wouldn't be welcome. These videos will do that for you. 
&
Tiny Ripples Afraid of Cables? Try this Easy Free Blanket Pattern
Tiny Ripples – An Easy FREE Cable Baby Blanket Knitting Pattern
Have a Look At This
Pin This Pin To Your Favorite Board for Future Reference
Come Back Often!
https://www.pinterest.com/pin/23784704266607479/

Haven't Found What You Were Looking for? Search Again Here:
Use Our Free Gift Finding Tool Below: