(THIS POST PROBABLY CONTAINS AFFILIATE LINKS. OUR FULL DISCLOSURE POLICY IS REALLY BORING, BUT YOU CAN FIND IT HERE.)
Easy Knitting Patterns For Babies
Easy knitting patterns for babies is the solution to the perfect baby shower gift. You don't have to be the best knitter ever in order to give a very unique handmade knit baby shower gift. Everyone agrees that babies are the cutest things in the world. But tiny little baby booties, or baby hat or knit baby blankets are adorable. Tiny things attract attention. People love them. 
And when you have knitting as a love, you are all set. I've said over and over that if you knit for baby and have a wonderful stash of yarn that you can tap into anytime you have a need or want you are ready. Easy knitting patterns for babies are quick to complete and you can have them made and ready for gifting any time. So remember popular baby shower gifts are homemade baby clothing and Knit baby items are especially well received, and they are great fun for you to make. A win-win situation.
I have chosen several of my own favorite patterns for you to view. most of them are easy knitting patterns for baby but if you are up for a challenge don't shy away from any that you like. I have also included some gorgeous yarns that you will need for knitting your baby shower gift or for building up your yarn stash. Have fun!
Great Easy Knitting Patterns for Babies – Think About That Next Baby Shower
Grammies Favorite Knits For Baby
Grammy's Favorite Knits for Baby
Baby Top Knit Pattern – Easy On And Off -Beautiful Gift Idea
Precious Little Baby Top that is super easy to make and can be made in sizes up to four years of age. A creative little top that would go well with little shorts, or skirt or even a diaper cover.
In fact it was originally designed for a matching top to this Knit Diaper Cover Patterns Piece. It is an easy pattern made on two needles and it is very popular and top rated. This darling little top could be worn over a t shirt or onsie to protect baby from the sun.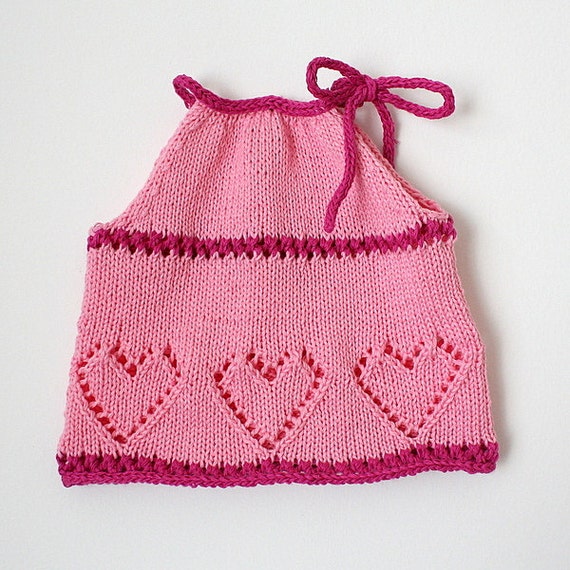 Knitting Pattern (PDF file) Sweet Hearts Baby Top (sizes 3 months up 4 years)

More Adorable Baby Booties Knitting Patterns From Craftsy
Craftsy is well known for their wide variety and quality of easy knitting patterns for babies as well as many other crafts. They also offer many classes on practically any subject. So don't hesitate to check them out.
Winter Baby Boots by OasiDellaMaglia
Jaden Knitted Baby Boots by Julie Taylor
Sea Shells Baby Boots by OasiDellaMaglia
Baby Moc-a-Soc by Rebekah Joy
There is no end to the beautiful baby booties knitting patterns that are available for knitting for baby.  There is such a variety of gorgeous yarns to choose from as well. Bright and bold colors or the typical pastels that are so often used for babies. Your imagination is your only limit. There are also Two needle knit baby bootie patterns, or you could learn how to use double pointed knitting needles to knit your baby booties in the round. Either way you won't regret learning to knit baby booties.
Enjoy Fabulous Baby Booties Knitting Patterns From Annie's
More Perfect Shower Gifts Made Easy
 Baby Knits Made Easy
[scrapeazon asin="1465402063″]
[azcss]
Some Beautiful Special Yarns for You to Build Your Stash and Get Your Baby Shower Gifts Ready
Lion Brand Homespun Yarn
Cascade Ultra Pima Yarn
Cascade Venezia Sport Yarn
Rowan Truesilk Yarn
Cascade Avalon Yarn
Rowan Softknit Cotton Yarn
&
Baby First Steps Easy Knitting Patterns
[content-egg module=Amazon template=grid]
Annie's Has Many Gorgeous Easy Knitting Baby Blanket Patterns
Knitting baby blanket patterns is a favorite among beginner knitters. But the wonderful thing is they are popular for experienced knitters too because of the beautiful patterns , yarns and designs in these patterns. Also they really do make the perfect baby shower gift. Easy knitting patterns for baby always includes blankets. In case you need help, I wrote this article on What is the best yarn for knitting baby blankets, it even has a free baby blanket pattern for you.
Easy Knit Baby Blankets Pattern
Easy Knit Baby Blanket Collection 2
Cecelia Blanket Knit Pattern
Softest Baby Blanket Ever
Several Choices Special Easy Sweater Knits for Baby
King Cole Baby Double Knitting Pattern Easy Knit Raglan Sleeve Hoody Cardigans & Sweater DK
&
[azcss]
More Easy Baby Blanket Knit Patterns From Craftsy
Craftsy has some really great easy baby blanket knitting patterns with full instructions. Even some pretty unique ones. Sometimes it is difficult to find a pattern that has all the pieces. But craftsy places leaves nothing out. You will enjoy making these quick and easy baby blanket knitting patterns . And the last pattern on this list is actually a free pattern. Which says a lot about Craftsy. So go get yours.
Reversible Lace Baby Blanket
Malt – FREE Baby Blanket PATTERN
Rainbow Dust Baby Blanket
&
Take A Look At This