(THIS POST PROBABLY CONTAINS AFFILIATE LINKS. OUR FULL DISCLOSURE POLICY IS REALLY BORING, BUT YOU CAN FIND IT HERE.)
 

Easy Knitting Patterns-Solution for Knitting Doubts
Maybe all this talk of baby knitting patterns  and getting all excited about knitting for that new little loved one has intimidated some of you. Well don't be, easy knitting patterns will be your solution.
You may not want to get too involved in a complicated knitting pattern at this stage of the game. But you also don't want to be left out in the cold. Everyone else is knitting all around you, why not you too?
The trick to this is to start out with very easy knitting patterns. Usually a baby blanket  will do very nicely. And if you are interested I have some baby blanket knitting patterns for beginners free – and easy that will help you on your knitting journey.
And get this, you can make an entire blanket with one single stitch. If you can learn to "cast on" which means get the yarn on the needles ready to start, then you can make a baby knitted blanket. The first stitch every knitter learns is the "knit" stitch and I have a tutorial on this page to give you some help.
Here Are Some Easy Knitting Baby Blanket Patterns
60 Quick Baby Knits: Blankets, Booties, Sweaters & More in 
Precious Knit Blankies for Baby (Leisure Arts# 5500)
Our Best Knit Baby Afghans (Leisure Arts #3219)
Our Best Knit Baby Afghans, Book 2 (Leisure Arts #5124)
Quick Knit Baby Afghans (Leisure Arts #2894)
Knit Baby Blankets!
 Many More Baby Blanket Knitting Patterns
You may be interested in having a look at some other baby blanket knitting patterns. I have found and written about several more Baby Blankets and I'm sure you'll find something special you'll like.
 An Explanation of the Knit Stitch (English Style) – Read This A Few Times
Hold the needles in your two hands, hold the needle with the cast on stitches in your left hand and the empty needle in your right, hold the dangling yarn from your ball of yarn  also loosely in your right hand. Next slip the tip of the right needle into the back of the first stitch on the left needle, take your right hand with the yarn and wrap it around the tip of the needle now in the back of the stitch. Now gently pull the wrapped yarn through the stitch and let it slide onto the right needle and let the stitch that was on the left needle now slide off the needle.
Read that a few times. It is not complicated. The idea is that you are working the stitches off one needle onto the other needle and then you turn the project over, so that the stitches being knitted are always on the left needle. You work left needle to right needle.
And when you do one row after another of knit stitches it is called the garter stitch. And it is beautiful. Very squishy and when you use really soft wonderful baby yarns it is superior, and makes the most wonderful easy knitting pattern.
So don't let anything stand in your way of making your first baby knitting pattern. Just start with an easy knitting pattern. You will love it!
Beginner Tutorial: How to Make the Knit Stitch (Video)
 Knitting 101: The Purl Stitch for Beginners (Video)
A Beautiful Puffy Stitch Easy Baby Blanket Knitting Pattern
This gorgeous baby blanket would never be mistaken for easy. It is soft and luscious because of the perfect yarn you chose. But it is actually made with only the two basic stitches in Knitting, Knit and Purl. NO Kidding! It is alternating and just beautiful. The side to side stitches are all knit or garter if you do row after row. And the up and down stitches are stockinette stitch which is knit one row, and purl the next. I've put a couple videos on garter and stockinette so you can see what I mean.
She also gives you the different amount of cast on to make different sizes. But really you can make this any size you want, just make it in multiples of 8.
Jordan Baby Blanket-free easy knitting pattern
Video Explaining Garter stitch in Knitting
And  Here is Stockinette Stitch in Knitting
Stockinette Stitch is also sometimes called Stocking Stitch.
Precious Easy Knitting Patterns for Baby Booties
A very popular gift idea for new babies. If our focus is on easy knitting patterns then we must include baby booties.  Not only are they fun and quick to complete. They are a perfect traditional baby gift. The follow booties are considered easy.
Baby Booties and Socks: 50 Knits for Tiny Toes
Snow Baby Knit Bootie Pattern
50 Baby Bootees to Knit
Ballet Flats Knitting Pattern
Simple Knits for Cherished Babies
Knitted Baby Bootees (Twenty to Make)
Very Simple Two Needle FREE Baby Bootie Knitting Pattern
These are the easiest baby booties every, bar none. You knit them on two needles. Make just two small strips of knit stitch and put then together. I am sure you could complete them in a couple hours or less. seriously. When you go see the pattern, there are picture and video tutorial that makes this even easier. You are going to love making your first pair of baby booties!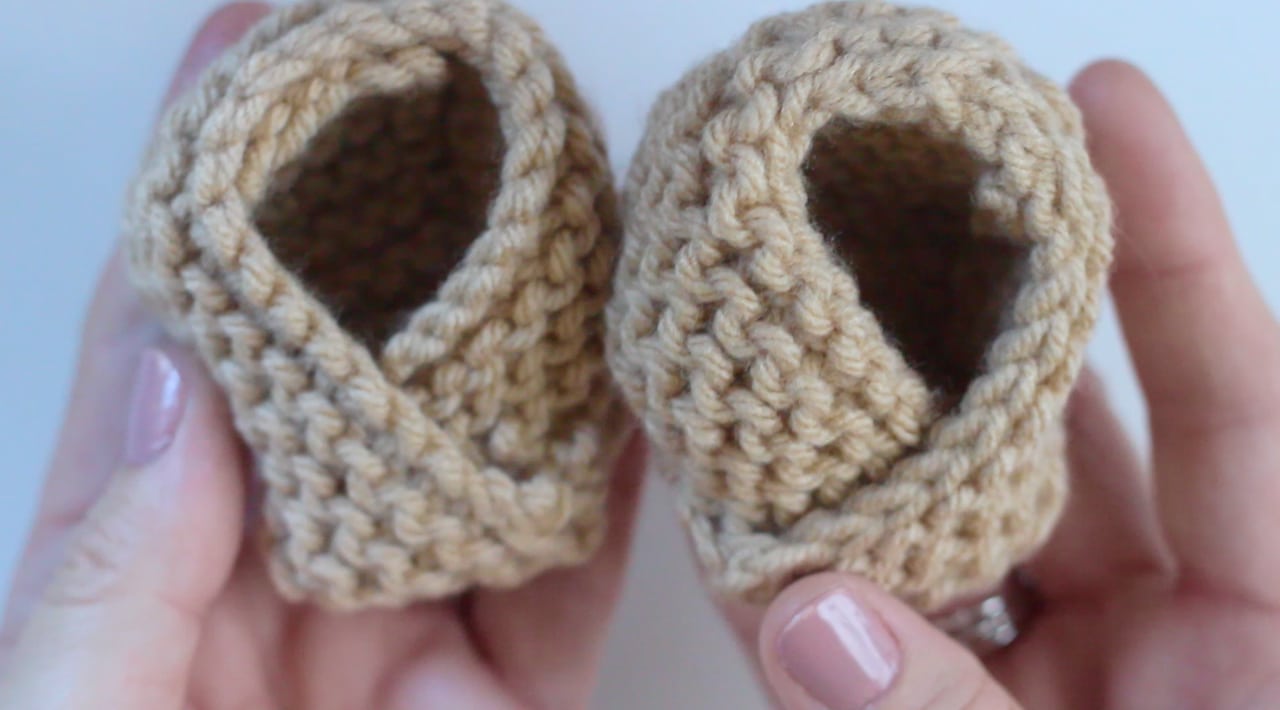 Easiest Two Needle Baby Booties Ever
Two Needle Knit Baby Booties
Many people really enjoy knitting booties, every new mother certainly enjoys receiving baby booties for her new little one. But you may be intimidated by using the four or five double pointed needles called for when knitting socks. Well don't worry you can knit many baby bootie patterns on the regular two needles you are used to. I wrote this article all about two needle knit baby booties.  This article includes tons of help for new knitters and how to knit booties on two needles.  There is even help for left handed knitters. You'll enjoy this.
And if you are okay with knitting in the round but the double pointed needles are not your thing. Try Magic Loop knitting for knitting in the round. Here is an article that teaches how to Magic Loop and it has quickly become one of my favorite ways of knitting.
Here Are Easy Baby Booties that are Sweetly Unique
These little love bug booties are easy and so precious. They will make a very unique gift at any baby shower and they are fun to knit. This is a instant download pattern.
There is also a matching ladybug jacket and hat if you are interested, both free knitting patterns, you can find them by clicking here.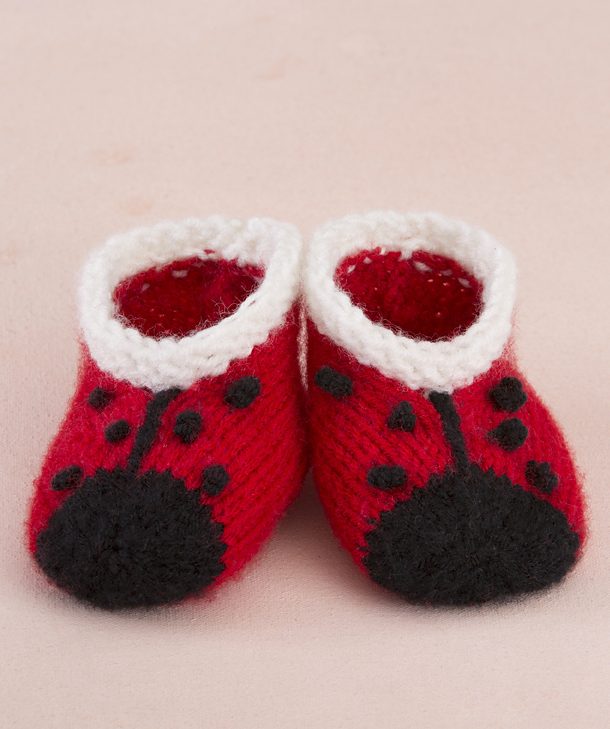 Sweet Lady Bug Booties
A very Precious FREE and Easy Baby Hat Knitting Pattern
This precious little itty bitty bear cub pattern is adorable and very popular. A lot of these have been knit for charity, for little preemie babies in the neonatal intensive care. The pattern is an instant download at Ravelry. If you're not familiar with Ravelry, it is a free sign up site for knitters and crocheters. Tons of patterns, it is great place to browse for your next project.
Itty Bitty Bear Cubs- Free Easy Baby Hat
Pin These to Your Favorite Pinterest Board


Have A Look At This
Haven't Found What You Were Looking for? Search Again Here:
Use Our Free Gift Finding Tool Below: