(THIS POST PROBABLY CONTAINS AFFILIATE LINKS. OUR FULL DISCLOSURE POLICY IS REALLY BORING, BUT YOU CAN FIND IT HERE.)
Free Fisherman's Rib Knit Stitch Baby Blanket Pattern 
The fisherman's rib knit stitch is a very special textured pattern. It is very thick and tons of texture. It is also very warm and squishy because it is so dense. And made with the special soft baby yarns that are available this is the perfect little baby fisherman Knit blanket.
Plus you will definitely get the kudos for what appears to be a very complicated pattern. But only you need to know that it is very simple and only uses two stitches. You will have it completed before you know it. And it will work up well in solid or patterned yarns.
Differences in Fisherman's Rib Stitch Knit Patterns
The Fisherman's Rib Stitch can be done a couple ways. You can begin your row with a purl and then end with Knit one, purl one, skipping one K1B stitch. Or you can alternate each row by starting with a knit stitch, or a purl stitch. The bottom line, they all come out looking pretty much the same way. So why make yourself crazy. So the way I do it is how I describe below.
Free Fisherman's Rib Stitch Knit Pattern Baby Blanket Pattern
This pattern could easily be used in a scarf or a cowl. Of course, you could make it into a throw or a lap blanket. It really is versatile for a flat piece, and it would twist well for use in a cowl twist pattern. But we are talking about our precious baby's blanket. So let's go.
Fisherman's Rib Stitch Knit Baby Blanket FREE Pattern
Practice Your New Stitch Skill
Cast on an even number of stitches. How ever wide you want your baby blanket to be. Then follow this pattern.
Use any size needles you desire, keeping in mind the smaller the needles the more stitches you'll need.
PATTERN
Row 1: Purl all the way across
Row 2: and every row hereafter is constructed the same way. P1, K1B, P1 K1B etc. till last 2 stitches, then purl both.
So to be clear, Row 3, 4, 5, 6 etc, will be the exact same as row 2. the fact that you end with the last two stitches as Purl creates the pattern.
Abbreviations Used:
P1 = purl 1 stitch
K1b = knit one stitch below
If you would like to download or print this pattern to keep in your knitting bag, just  Click Here
Now seriously, could anything be more easy? It is not complicated and you will have it memorized by row 3 and you can keep this with you as a great takealong project.
Video Demonstration of Fisherman's Rib Stitch
Free Precious Fisherman's Rib Henley Baby Sweater
This baby sweater and matching hat was made for a 3 to 6 month baby. It is remarkably cute. It is knit in the round and does have some Kitchener stitch connections. It's a great pattern and will make you the hit of any knitting circle.
little fisherman's rib henley sweater
Fisherman's Rib Stitch So Much More Than Just a Baby Blanket
When you knit this in regular weight yarn or even bulky yarn it is VERY thick and gorgeous. It feels like a heavy sweater or cowl. But when you make it in the delicate baby yarns it is lightweight but very warm and it has a unique movement to the material. It is just beautiful. This is one of my favorite baby blankets. I haven't been knitting it long. But it has been a hit with those I gift it too. And I now do believe it is the best knit stitch for baby blanket around.
Another nice thing about this stitch is that worked into a blanket it lays flat, no curling. And it is the right side on both sides. Meaning there is no wrong side. You can cover baby any side you want and it will be gorgeous.
But it can also be worked into different fisherman stitch knitting patterns, the baby yarn makes it more pliable and you can see how it can be used in other patterns like this fisherman's rib ladies jumper knitting pattern. or even this sweet little button off the shoulder fisherman's rib sweater pattern for baby. Can you see how the baby yarn makes it very soft and workable for a baby. And yet still warm and thick and squishy.
Or with the fisherman rib knit pattern and light weight yarn you can make very intricate patterns. Always knowing whatever you make is going to be warm, soft and squishy.
And how about fishermans rib in the round? Of course! For instance  this fisherman's rib pattern free  for a beautiful cowl , knit in fisherman's rib in the round.
And something that I like to do which is the most unique and pretty pattern is to take two yarns together, contrasting colors, or even complimentary colors, what ever you think goes well together and then knit the fisherman's rib knit pattern using the two yarns held together. Just follow the same pattern. It is fun to watch the design come to life. And not only is it interesting. It is unique. You'll never get it exactly the same way twice.
So this simple two knitting stitch pattern can create many wonderful things. But a baby blanket is top of the list and so precious. You are going to be very happy with your creation.
Beautiful and Playful Fisherman's Rib Knit Baby Blanket with Bobbles FREE Pattern
A really fun little Baby blanket made with the stitch of the day Fisherman's Rib. The Bobble tassels make it all the more fun and would be so entertaining to any baby laying withthis blanket. A free pattern from Ravelry.
Fisherman's Rib Baby Blanket
Very Fun Baby Cocoon or Sleeping Bag made in Fisherman's Rib Free Pattern
A very beautiful baby cocoon or sleeping bag or envelope that is made with Fisherman's Rib stitch. This pattern offers you options and considered to be easy intermediate. This is always a hit at baby showers because it is so unique. It is just simply fun to make and to gift.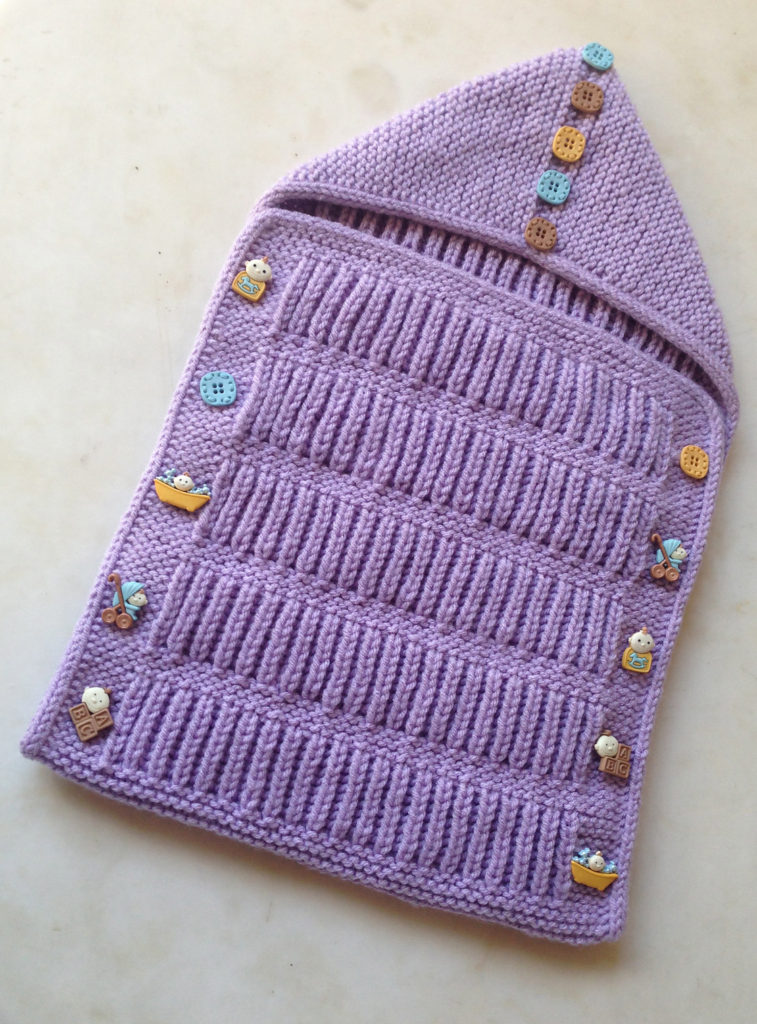 Fisherman's Rib Baby Envelope (Cocoon)
Related:
https://www.babyknittingpatternsblog.com/easy-baby-blanket-knitting-pattern/
 https://www.babyknittingpatternsblog.com/easy-baby-blanket-knitting-pattern/
 https://www.babyknittingpatternsblog.com/best-free-knitting-patterns/
A Word about How To Knit The K1B
Knit one below (K1B) is very straight forward, but until you understand it, you might feel intimidated. But it is really easy. I am going to talk you through it. Instead of inserting your needle into the stitch on the needle as if to knit, you insert your needle into the hole of the stitch below the stitch on the needle and knit as normal. slipping both stitches off onto the right needle. K1B completed. Now just read that over a couple times and watch this video and by jove I think you'll have it.
So now you are equipped to make the most precious little heirloom for your baby and your family and future babies to come. I hope you enjoy your fisherman's rib stitch knit baby blanket pattern and any other way you decide to utilize this very interesting, easy and squishy knitting stitch.

Haven't Found What You Were Looking for? Search Again Here:
Use Our Free Gift Finding Tool Below: