(THIS POST PROBABLY CONTAINS AFFILIATE LINKS. OUR FULL DISCLOSURE POLICY IS REALLY BORING, BUT YOU CAN FIND IT HERE.)
Easy Knit Diaper Cover Patterns-Quick Simple and Stylish
Knit diaper cover patterns are a fun way learn that easy knitting patterns are not scary. If you have been wanting to try a knitting project
but were a little nervous about the investment, and fear of failure was holding you back,  this may be for you. Also many are FREE baby diaper covers knitting patterns, nothing wrong with that!
Many of these knitted diaper covers patterns
can be completed with only one skein of yarn. So minimal investment to start out with. One Skein Baby Projects are fast and easy to complete and great for take along projects. But just because it doesn't require a lot of yarn does mean it isn't made with a lot of love.
Also the baby knitting projects are small and great for taking with you when you want to keep your knitting close.
Also a knitted nappy cover pattern is a nice way to give your baby a fashionable wardrobe. Cover up that less than interesting nappy and make your baby dressed to the nines with style and pizzazz. Plus children are easily embarrassed and although they won't care when they are babies, they sure will when they are kids and seeing their baby pictures. Your children will thank you and you will be so proud and happy to know you made your kids happy. Knit diaper cover patterns are going to save the day for sure.
You won't need many accessories either. Just the usual suspects, yarn needle
, cute baby buttons
on some patterns, yarn
and knitting needles
. So have a look at these patterns and see if you might like to add this to your knitting repertoire.
✅ In A Hurry? Click Here To Shop All Choices For Knit Diaper Cover Patterns
Popular Monkey Hat Knitting Pattern and Diaper Cover – Ridiculously Cute
This absolutely adorable monkey hat and diaper cover is so popular, it is always included in this category of baby knitting. You will see how this little knit monkey pattern easy to love and very doable.  It is just too cute to be ignored.
Monkey Hat and Diaper Cover Set Knitting Pattern
2500 Knitters Prove it Can be Done – Very Popular and Highly Rated Diaper Cover Knit Pattern That You Will Have Success With
You will love this pattern, it has just enough going on that it can be personalized by the accessories you choose, the ribbon, the buttons, the color and texture. It is great. And a  basic pattern using basic stitches.  Not too difficult for a beginner to try.
And it can be for a little boy or baby girl with just the change of color. Plus this pattern has been given 4 and 5 star ratings by over 2500 knitters. Click Here to read these ratings for yourself.  Ya gotta try it!
You might be interested in this matching little top that is very easy knitting pattern for baby. Perfect with these little diaper cover ups. Or another knit pattern that goes with this heart pattern diaper cover up is this Baby Cardigan knitting pattern. 
To purchase this Sweet Hearts Diaper Cover  ♥ Click Here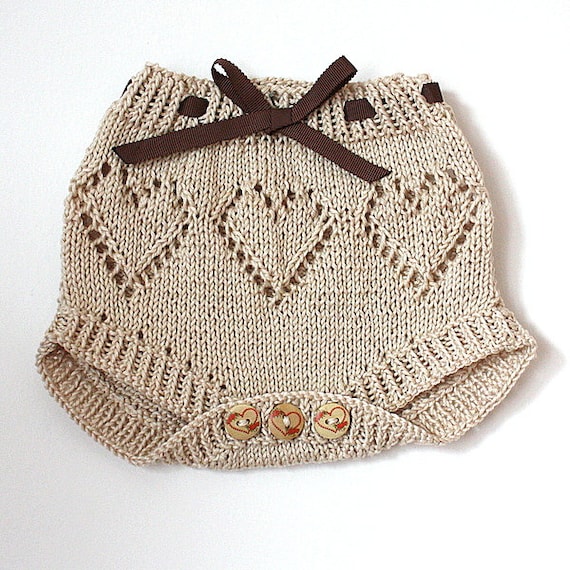 Knitting Pattern (PDF file) Baby Pants Diaper Cover Sweet Hearts flat knitting

Free Baby Bloomers Diaper Cover Knit Pattern
This  knitted diaper cover pattern free and too cute is perfect. It  has the ribbing around the waste and legs, and otherwise stockinette stitch. It purposely only uses basic knitting stitches to make this a simple pattern perfect for a beginner knitter. It does require picking up some stitches around the legs but she helps you work through it. It is a very doable pattern and you'll enjoy it. Plus the pattern is darn cute. And a great baby shower gift. Mamas love their babies to look the cutest and a plain ole diaper uncovered, just does not fit the bill.
EASY BABY BLOOMERS KNITTING PATTERN / KNIT DIAPER COVER PATTERN
Another Truly Beautiful and Detailed Knitted Diaper Cover Pattern
This adorable pattern is also rated 5 star by over 2500 knitters. It is an easy pattern knit on two needles. It has a lot of detail that makes it exceptionally beautiful, but accomplished by basic knitting stitches. Very enjoyable pattern with a special looking outcome. Enjoy this one!
Also to complete the outfit there is a very beautiful matching precious little baby cardigan for knitting available. You can see it here at baby cardigan knitting patterns.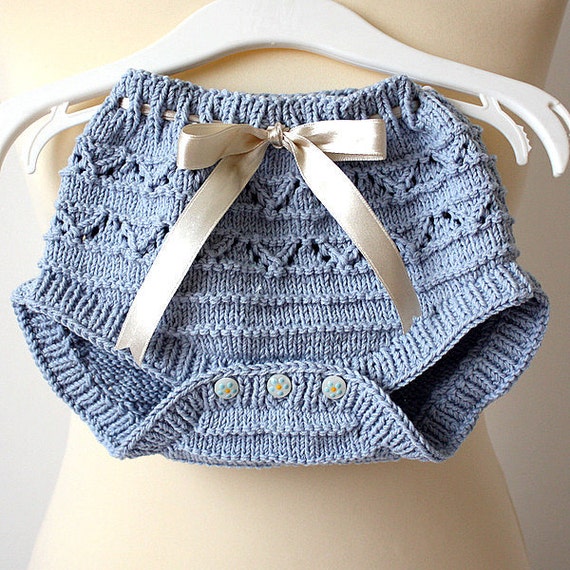 Knitting Pattern (pdf file) Baby Pants – diaper cover

Very Pretty Nappy (Diaper) Cover Free in Multiple Sizes
Very pretty and easy to knit. Knit in one piece so you don't have to bother with seams. And by the button you choose you can make it feminine or masculine. And the small size would be great for charity knitting because it so quick to knit and they are always in need and happy to receive these little gifts of love.
Hideaway Nappy Cover
Another Free and Beautiful Knitted Diaper Cover Knitting Pattern
Very nice to knit and comfortable for baby diaper cover. Drawstring waste allows you to make it fit baby no matter what the size. And she  calls for a provistional cast on, which you may not be familiar with, the video to explain is below as well as a very detailed pictorial that will make the crochet provisional cast on as easy as pie.
She also calls for an Italian cast off. so a video is included for that too.
Hand-knit Wool Diaper Cover Pattern – FREE Pattern
Provisional Cast On's Choose the One That Works For You (Video)
The above pattern calls for you to use a Provisional Cast On. There are more than one for you to choose from. The following Video shows you all the choices. Just choose the one that works for you and you are ready to start this adorable pattern.  And for a very detailed crochet provisional cast on that is demonstrated in the video, Check out this pictorial that will make it very clear for you.
Italian Bind Off – Beautiful Stretchy Professional Edge (Video)
A Very Simple But Stylish Baby Diaper Cover – Quick To Complete
I love Etsy patterns because of the attention to detail and how they work so hard to make your shopping experience pleasurable. This is a great beginner pattern because the pattern is simple using the garter stitch and quick to complete.
You will be read to wrap this one up for gifting before you know it. And it is easily completed with one skein of baby yarn. Also it is knit flat on straight needles. You will be pleased with this one for sure.
Etsy has many more choices for diaper cover knit patterns than what I have shown you. You may want to see all they have to offer by Clicking Here
Free Knitted Diaper Cover and Hat Pattern
A beautiful Free knitted diaper cover and a sweet bear hat that matches. This knit baby diaper pattern is by Redheart and is labeled intermediate knit. Meaning it is a bit more difficult than straight knits and purls. but read the pattern and see what you think. Never be defined by a word, you've got this!
Knit Bear Hat and Diaper Cover
Take a Look At This
Haven't Found What You Were Looking for? Search Again Here:
Use Our Free Gift Finding Tool Below: