(THIS POST PROBABLY CONTAINS AFFILIATE LINKS. OUR FULL DISCLOSURE POLICY IS REALLY BORING, BUT YOU CAN FIND IT HERE.)
Learning How to Use Double Pointed Knitting Needles Is Much Easier Than You Might Think
Learning how to use double pointed knitting needles might seem intimidating, but you might be surprised. You can use double pointed instead of circular needles for all your sock knitting.  I suggest you start small when learning to use double pointed knitting needles.
A great thing is that double pointed knitting needles great for knitting baby socks and baby booties. There is a wonderful variety of Baby bootie knitting patterns  and many Free knitting patterns for baby booties and socks that will keep you engaged in this pastime for a very long time. I hope you enjoy these DPN knitting patterns.
In A Hurry? If You are interested in seeing some beautiful baby bootie patterns for you to practice your double pointed knitting needles skills. CLICK HERE
Become a Master at Knitting Socks
You'll love it as Much as I Do
It is interesting and unique and so much fun! Maybe because I love knitting socks. But Knitting in the round just works for me. Baby Booties or socks or even little baby hats are very fun to make. DPN (double pointed needles) knitting is not complicated.
✅There is just one

very important

rule that must be obeyed when DPN knitting, You must not allow your yarn to get twisted. When you obey this rule the rest is easy.
Knit Double Pointed Needles Is A Great Take Along Project
Small projects like booties or socks are great also because they are easy to take along, like on a trip or to the park  And they have the added bonus of being quickly finished. You have to agree it is so empowering to actually finish a project.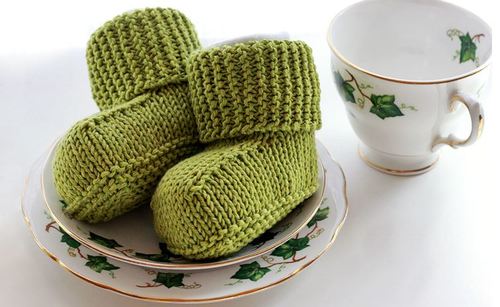 Free Pattern: Bitty Baby Uggs
No Guilt Necessary To Have More Than One Project Going At a Time
Most knitters have a half dozen projects started and have a little knitter's guilt for not finishing them before starting another "must do" project.
But knitting small projects like knitting for baby, you can luxuriate in the pleasure of finishing a project. And I always love having  knitted baby gifts completed and waiting for the next baby. You know how they just keep coming along, and when they do, You're ready! It is such a win-win proposition.
Below is one of the free sock patterns double pointed needles would be perfect for. Enjoy!
Free Baby Sock Pattern
 Free Beautiful Basic Socks for Babies Everyone Loves to Knit 
A perfect little pair of baby socks to practice your new skills on. Enjoy these simple little socks and keep baby's feet warm and new mom happy. Perfect for a baby shower every time. And handmade makes it all the more special.
Sweet little toes need sweet little socks
Precious Baby Scrunchy Socks – Double Pointed Needles Patterns Free  
Starting out small with Double Pointed Sock Knitting might be the better way to get your feet wet. Less to hold in your hands and to manipulate the yarn around four or five needles. Here is a very cute scrunchy baby socks  Free Knitting Patterns for socks on four needles that would make perfect gifts for the next new baby that comes along.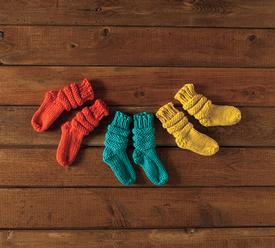 Scrunchy Booties Free Knitting Pattern
Essential Tips for Making Your DPN Knitting Successful
So here are  some videos that will help you to refresh or learn from scratch how to master double pointed knitting needles. There is no reason to fear DPN Knitting because it is very doable. There are just a few tricks that are needed to keep you sorted out. Have a look at these videos to pick up tons of useful tips and tricks.
5 Brilliant Tips For DPN Knitting
How to Prevent Your Worst DPN Fears from Coming True
Here is a quick video that demonstrates how to use DPN. You will see how doable this is. The video does assume you have some knowledge as to how to cast on to a needle. But the beauty of watching a tube grow as you knit is just a joy.  And this technique will work for anything you want to knit in the round. Using circular needles is better when using a large number of stitches like for an afghan. Have a look here.
  Free Knitting Patterns Socks
4 Needles or 5
You might has well have a very cute free pattern for practicing your new skill of knitting with double pointed knitting needles. These cute baby socks is a free download from loveknitting.com. Enjoy these.
Free Pattern: Knit Child's Two Color Socks
Related:
Free Easy Baby Bootie Knitting Pattern, Two Needle Pattern
Two Needle Knit Baby Bootie Patternse
A fun pattern for easy Knit socks on two needles.  
Try Your Knit Double Pointed Needles Skills on this Free Baby Socks Knitting Pattern
Here is a free pattern from Ravelry   for a precious little pair of socks. Remember if it asks you to sign in, It is a free account and there are thousands of free patterns there and they even make suggestions as to the yarn and needles you might want. Enjoy.
Remember learning a new knitting technique is best on a beautiful free pattern so you can move on to a paid pattern that will have a bit more detail or style later on, Plus they are just fun. So learn how to use double pointed knitting needles without the stress of spending anything on the pattern. You'll be ready to move on before you know it.
Garter Stripe Baby Socks
Pin This to your favorite Knitting Board for Future Reference

Maybe You Would Like These Too:
Easy Baby Booties Knit Pattern-Let Nothing Stop You
Free Baby Bootie Knitting Pattern, You Will Love It
Have A Look At This

Haven't Found What You Were Looking for? Search Again Here:
Use Our Free Gift Finding Tool Below: