(THIS POST PROBABLY CONTAINS AFFILIATE LINKS. OUR FULL DISCLOSURE POLICY IS REALLY BORING, BUT YOU CAN FIND IT HERE.)
Preemie Hats Knitting Patterns – Perfect Gift And Easy To Make
Looking for a fun and easy gift to knit?
Preemie hats knitting patterns would make a great choice.
And if knitting is new to you an easy baby knit hat is a great way to start. 
This post is all about knitting patterns for baby preemie hats. And the perfect preemie hat patterns for charity,, which hospitals with PICU's are always looking for. Also included in this post are easy premature baby knitting free patterns.
But new moms always appreciate ways to keep their preemie babies' heads warm. So in this case, the best baby shower preemie knit hat pattern would fit the bill. And this post has a boat load of premature knitting patterns free that you are going to love.
Easy Preemie Baby Knitting Free Pattern
A beautiful simple preemie baby hat pattern. This is the perfect preemie hats patterns for charity. Cast on, stockinette stitch, and sew a seam is about all there is to this sweet hat. knit on two needles so it is not necessary to knit in the round.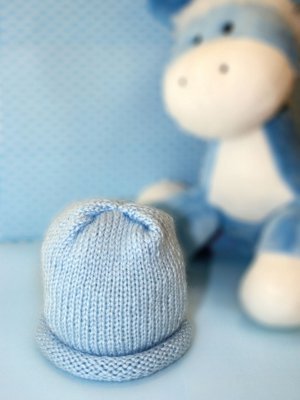 A Basic Preemie Hat
An Easy Baby Hat Knitting Pattern Can Help You Learn To Knit
One reason Baby hats are so perfect to knit is they are quick to complete and always a perfect gift for a new baby in the family or friends. And they are small and a great take along project.  But also it is a great humanitarian thing to do.
The preemie nurseries in hospitals are always in need of baby hats which are so important because preemies lose their heat from the top of their heads and these precious little hats cover and warm those brand new babies. So Knit several and gift them to a nursery near your home. You won't believe the thanks you receive.
So enjoy this post and find great easy knit preemie hat pattern that will be your next project, as well as preemie hats knit free patterns as well.
And if interested, here are more baby hats, Bobble Hat Knitting Patterns  too.
✅ Find Your Perfect Preemie Hats Knitting Patterns By Click Here
Adorable Many Choices Of Beautiful Baby Hats Knitting Patterns 
Adorable Newborn Baby Hat Knitting Patterns From Etsy
Etsy Patterns are all unique and truly beautiful knitting patterns. Your knitted creation will be the envy of all the other babies. And each pattern on etsy has a review that will help you decide.
Baby Hat Knitting Pattern with Rose
Baby Bonnet Pattern
Knitting Baby Hat Baby Patterns
Beautiful and Very Versatile Preemie Hat Knitting Pattern
Such a pretty preemie hat for charity. One Basic pattern with many different versions. And really amazing because it is free. Enjoy this one.
Preemie Hats for Charity- Free Preemie Hats Patterns
Such Precious Little Preemie Hats Knitting Patterns 
So Precious Baby's Hat Knitting Pattern #0902
Charlie's Unisex Newsboy Hat Knitting Pattern
Such A Sweet Baby's Hat Knitting Pattern #0905
French Christmas Kiss Baby Hat Knitting Pattern
Video: White Knitted Hat For A Newborn Baby
The video is in English and a second language, And it is the complete pattern for creating this baby hat which is very simple and quick to complete. It is a simple 2 by 2 rib and straight into stockinette stitch and then decrease for the top. The hat is shown knit on DPN"s or double pointed needles. For help working with DPN's, you can check out this post.
Video: How to Knit a Simple Baby Hat
Annie's Craft Store Has Some Really Cute Baby Hat Knitting Patterns
Knit Beginner Baby Hats Pattern
Baby Hats Knit Pattern
Baby Blankets & Hats Knit Pattern
Related Links:
Bobble Hat Knitting Patterns  -(Free Knitting Patterns)
Baby Hat Knitting Pattern-Beginner Tutorial And Fisherman Rib Knit Option  -(Free baby hat pattern, tutorial)
Magic Loop Baby Hat Knitting Pattern A Fun Way To Knit In The Round  -(Free baby hat knitting pattern and tutorial)
Some Very Cute Knit Patterns for Preemies Hats and More
Very sweet knitted preemie hats knitting patterns. Some are very easy to knit, others require more experience.
Flower Baby Hat: Knitting Pattern
Knitting Pattern Hat
cute and cuddly caps to knit for babies
Knitting Pattern Baby Hat with Striped Slip Stitch Border and Picot Trim 
So-Soft Preemie Hat
Beautifully textured FREE Newborn Baby Hat Knitting Pattern
<
So Soft Preemie Hat
This is another Free Baby Hat Knitting Pattern from LionBrand.com. If you are not already a member it is worth your time to sign up for a free account so you can have access to many free patterns.
This Pattern is richly textured and has instructions for preemie and larger baby hats. Full knitting patterns and yarn suggestions and any other instructions are Here
Bev's Country Cottage Knitting Patterns Exceptional Quality and Beauty
Bev's Yet ANOTHER PREEMIE HAT
Bev's Country Cottage is a great place to go for free knitting patterns. She has it all. Don't forget to look around. Here is a sample of one of her beautiful preemie hats.
Go to this page for instructions for this really cute hat for a preemie, remember you can use any color yarn, and even textured  if you want. The first hat on the page is crochet. scroll down to theSecond Hat Link  to see the instructions for the knit preemie hat you see here.
Free Preemie Hat

s Knitting Patterns for Charity By Carissa
Preemie Hats for Charity
Beautiful Preemie baby hat pattern.  by Carissa. This is one of several patterns offered. As Carrissa says they are great stash busters, and so cute.
Heart Version Only:
Rnds 1-3: knit.
Rnd 4: *k6, p1, k5*; rep between *s around.
Rnd 5: *k5, [p1, k1] twice, k3*; rep between *s around.
Rnd 6: *k4, [p1, k1] three times, k2*; rep between *s around.
Rnds 7, 9, 11: *k3, [p1, k1] four times, k1*; rep between *s around.
Rnds 8, 10: *k2, [p1, k1] five times*; rep between *s around.
Rnd 12: *k4, [p1, k3] twice*; rep between *s around.
Knit 12 more rnds.
Continue to Crown Shaping, which you can find here.
 Some More Links To More Free Easy Baby Hat Knit Patterns
A nice collection of Free knitting patterns
Preemie Hats: Free preemie hats knitting patterns.
Carissa Knits: Free preemie hats knitting instructions.
Free Preemie Crochet and Knitting Hat Patterns: Free downloadable instructions to crochet or knit a preemie baby hat.
Take A Look At This

Haven't Found What You Were Looking for? Search Again Here:
Use Our Free Gift Finding Tool Below: