(THIS POST PROBABLY CONTAINS AFFILIATE LINKS. OUR FULL DISCLOSURE POLICY IS REALLY BORING, BUT YOU CAN FIND IT HERE.)
14 Quick and Easy Knitting Gift Ideas – Don't Get Caught Empty Handed
Knitting is one of the best crafts for making a last minute gift, and having 14 easy knitting gift ideas right here handed to you is not bad either. You can knit a simple but beautiful gift for any occasion quickly and easily. And there are several free patterns that will fit the bill. And it is a good idea, especially if you love knitting, is to knit up all the patterns you really like and then you will never get caught empty handed when you get a last minute invitation to a party or baby shower or many other occasions that happen all year long.
I have listed 14 of all time favorite quick and easy knitting gift ideas. From that unexpected baby shower invitation to that graduate that has completed the next phase of their journey. No matter what you will never be caught unaware. And having your own stash of last minute gifts is a very comfortable place to be. So enjoy you're journey through these suggested easy knitting gift ideas. And 12 of the 14 or free!
Cloaked in Clouds Poncho Knit Pattern
This Knit pattern is the remake of a very popular crochet pattern and is even better than the first. It has a very squishy warm outcome once you have completed it and it Knits up very quickly when using the bulky yarn. This is considered an easy project. But it is as described as a very warm, soft comfortable poncho you will love so much it will be hard to gift away. So maybe make two!!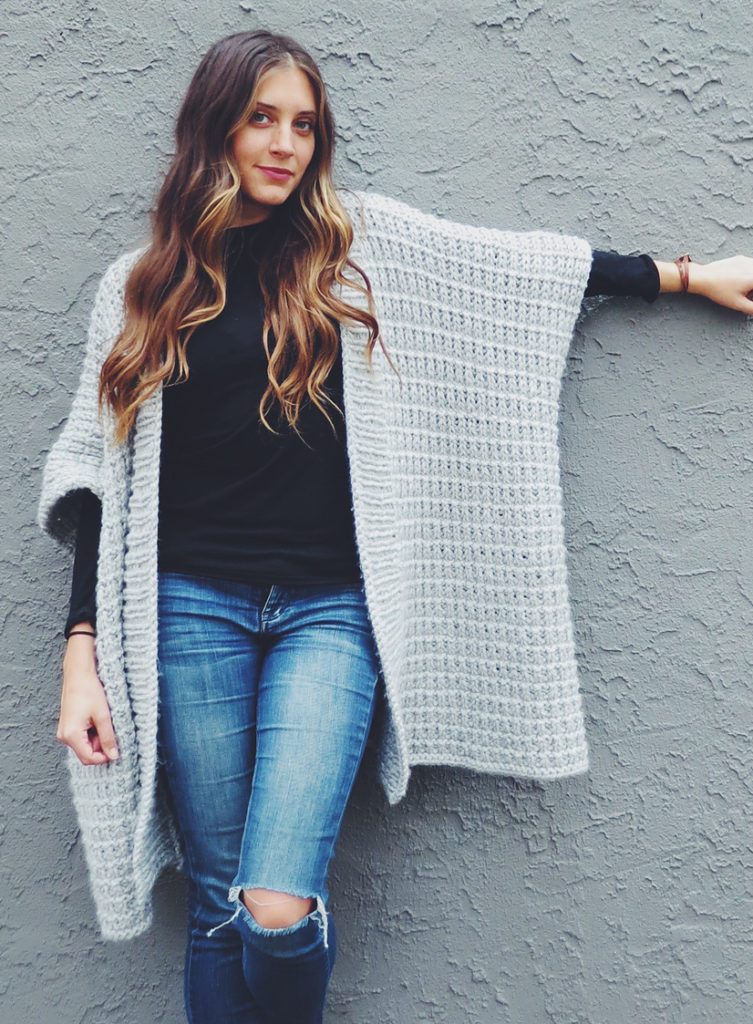 Cloaked in Clouds Poncho Free Pattern
Gorgeous and Easy 3 Hour Cowl
Oh and it only takes one ball of yarn
The instructions are quick and easy to understand, all is spelled out on the author's page. She will answer all your questions. If you need something to give to someone in a hurry. This beautiful and free pattern may be your answer.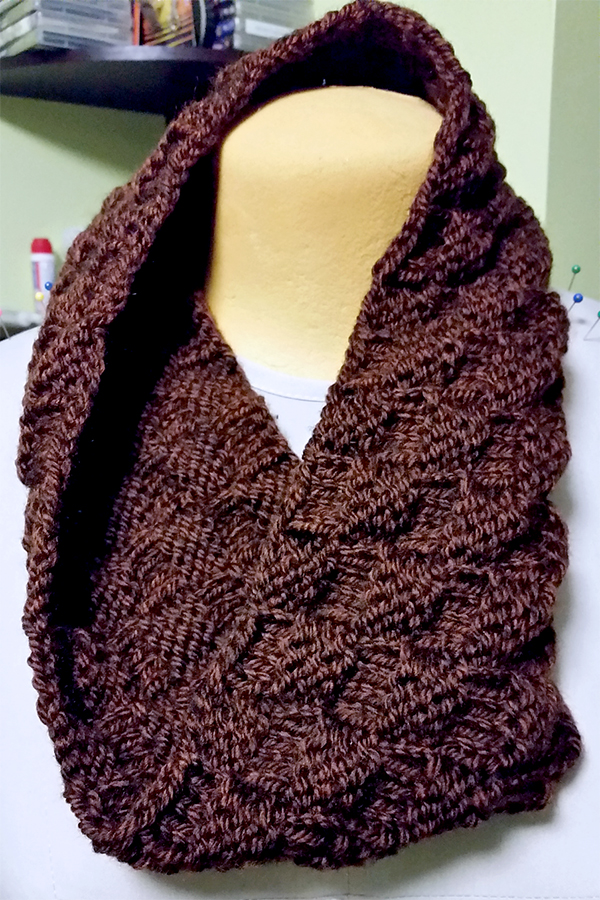 The 3-Hour, 1-Ball Cowl! Free Pattern
Beautiful Fingerless Mitts
The fingerless mitts make a great gift because they fit nearly anyone's lifestyle. Outdoors or indoors everyone gets cold hands. And these stylish and warm mitts will make a great gift. They are knit in a heavier gauge yarn and knit up in just a few hours. You can get these mitts on Ravelry  for very little cost.
  Spa Washcloth Fantastic Free Easy Knitting Gift Ideas
This is a very easy knit spa washcloth. It is called a spa cloth because you will see as you knit it it is knubby and super soft. So it will do a nice job of a gentle exfoliation. Knit a couple of them and include with some bath salts or hand made soaps or bath oils. Or all of them if it is your mom.
Cast on 34 sts (Use any soft and cozy yarn that you love, and Use size 8 knitting needles.
Row 1: K2, *p2, k2, repeat from * to end of row
Row 2: P2, *k2, p2, repeat from * to end of row
Row 3: P2, *k2, p2, repeat from * to end of row
Row 4: K2, *p2, k2, repeat from * to end of row
This is your stitch pattern, only these four rows over and over, it gives the cloth the knubby feeling.
Continue for 46 rows
Bind off in pattern
  Easy Knitting Gift Ideas- Newborn Baby Booties – Free Pattern
The Free baby booties pattern by Gina Michelle are great for a last minute gift. They are knit flat, no heel shaping or toes to worry about. You knit it on two needles and the sew it together. They are quick and easy and won't take more than an evening for you to complete.
Needles: Size 4 US
Cast on 31 stitches. Knit 8 rows.
Row 9: Knit 12, knit 2 together, knit 3, knit 2 together, knit 12
Row 10: Knit 11, knit 2 together, knit 3, knit 2 together, knit 11
Row 11: Knit 10, knit 2 together, knit 3, knit 2 together, knit 10
Row 12: Knit 9, knit 2 together, knit 3, knit 2 together, knit 9
Row 13: Knit 8, knit 2 together, knit 3, knit 2 together, knit 8
Row 14: Knit 7, knit 2 together, knit 3, knit 2 together, knit 7
Knit 12 more rows. Bind off loosely.
All that's left is to sew up the back seam and fold over the cuff. Adorable!! and Easy.
Created by Gina Michelle
  One Hour Hat Easy Knitting Gift Idea
This very cute knit hat is very fast to knit up. It is made in garter stitch using a chunky yarn so it will go fast. This one will be fun to make. Have a look at it here. It is an instant download and very inexpensive.
 Earbud Pouch – Incredibly Nifty Last Minute Gift Idea
These little ear bud pouches are the cutest thing I've seen in awhile in knitting. They are tiny like for your ear buds. I don't know whatever else you could think of to put in here. But the author of the pattern had in mind a gift for herself and she needed something to put he earbuds in. Thus an ear bud pouch! They are knit in the round and have increase and decreases on the side which allows the pouch to lie flat. They are knit on size 2 or 3 needles and a nice fine yarn like fingering or sport weight. Anyway it is a Free kitting pattern and a download in PDF.  You'll love it.
  Knit Basket -Very Fast Knit- Complete in an Hour and Its Free
Now this is a Fast knitting project. It is made with chunky needles and large needles. The author does a beautiful job of giving you a step by step guidance through the pattern so you can get this one done very quickly. Plus its very cute. I could see a little cluster of these with different things in them as a giveaway to someone you love. Very nice pattern, have a look here.
Related:
Best Free Knitting Patterns
Free Baby Girl Knitted Dress Patterns
Free Baby Blanket Knit Pattern
A Very Pretty 1 Day Beret Free Pattern
This very pretty Beret is not meant for those that are just starting their knitting career. But for those that have a little experience you've got this. And it is so worth it. Just look at it, It's beautiful!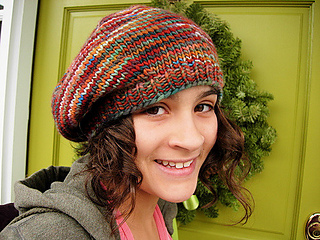 One day Beret Free Pattern
Dragon Scale Keyhole Scarf Free Quick Pattern
This is a beautiful scarf with a slit in one end of it that makes the Keyhole so you can tuck your other end of the scarf into it to hold it in place. Cool idea. And this scarf is quick to knit and a very fun pattern to boot. I like this pattern and it is free which I find to be amazing. You can go here to download the free pattern and get a few more details.
Very Stylish Front Tie Vest and It's Free
Multiple sizes are given as choices for knitting this beautiful and very stylish vest. you can certainly use yarn and color of your choice, but what a great gift idea and it knits up quickly so you will be ready for the next occasion.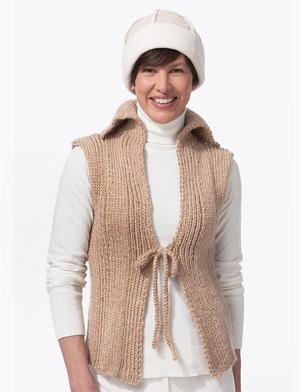 Tie Front Knit Vest Free Pattern
Beautiful Heart Mug Rug Quick and Easy Unique Free Knitting Pattern
A Mug rug is a very useful and fun gift idea. It is like a coaster for your mug. You know how glasses or mugs sweat so bad in the summer. A mug rug controls all that sweat and keeps your mug in place. And the pattern is so simple and quick to complete. I hope you enjoy it. It is from FaveCraft which is a favorite place of mine for years. I have made this several times. Love it!
You will need: 
Knitting needles, size 6
One skein of red sport weight yarn (makes 6)
Crochet hook for making fringe
Gauge: 
9 stitches = 2 inches (it doesn't really matter, it is just the size of the mug rug when finished.)
Cast on 19 stitches. Knit three rows, then begin pattern.
After you knit the three rows, this is your pattern: 
Row 1: k9, p1, k9
Row 2: k2, p7, k1, p7, k2
Row 3: k8, p3, k8
Row 4: k2, p6, k3, p6, k2
Row 5: k7, p5, k7
Row 6: k2, p5, k5, p5, k2
Row 7: k6, p7, k6
Row 8: k2, p4, k7, p4, k2
Row 9: k5, p9, k5
Row 10: k2, p3, k9, p3, k2
Row 11: k4, p11, k4
Row 12: k2, p2, k11, p2, k2
Row 13: k3, p13, k3
Row 14: k2, p1, k13, p1, k2
Row 15: k3, p6, k1, p6, k3
Row 16: k2, p1, k6, p1, k6, p1, k2
Row 17: k4, p4, k3, p4, k4
Row 18: k2, p2, k4, p3, k4, p2, k2
Row 19: knit across
Row 20, k2, p15, k2
Knit 3 rows and bind off.
Fringe:
Just make some equal length pieces of yarn and using a crochet hook make your fringe on your mug rug. you can make it as long or short as you would like. I made mine about 8 inch pieces that when inserted as fringe was 4 inch long fringe.
Silver Haze  Cardigan Free Pattern
Includes Plus Sizes
This beautiful sweater knits up quickly in the bulky yarn. and it is a rare pattern that goes all the way to 3XL. Enjoy this beauty.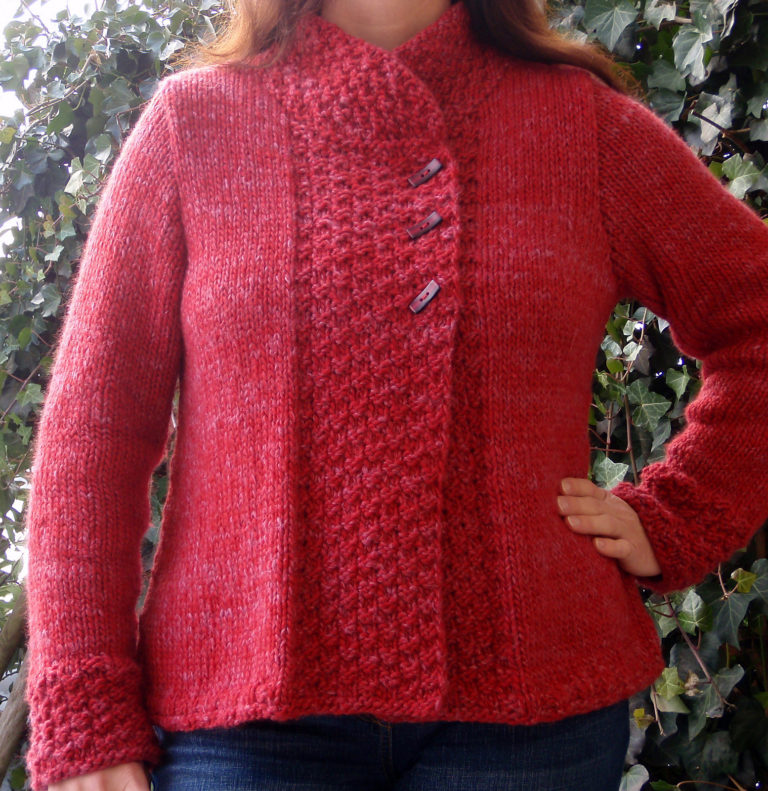 Silver Haze Jacket Free Pattern
Quick and Easy Free Baby Blanket Knitting Pattern-It Will Be Done in No Time
This is a great knitting pattern . You knit it corner to corner instead of top to bottom. It is really easy and you'll memorize the short pattern very quickly. This is a great gift idea too. How many new mom's don't want a hand knit baby blanket for their new little one. You'll be the hit of that next baby shower. You've got this! This is a free pattern from LionBrand, outstanding.
BLANKET
Cast on 5 sts.
Row 1: Knit.
Row 2: K3, yo, k2.
Row 3: K3, yo, k3.
Row 4: K3, yo, k to end of row.
Rep last row until you have 90 sts on needle.
Next (decrease) row: K2, k2tog, yo, k2tog, k to end of row.
Rep last row until 5 sts remain. Bind off.
FINISHING
Weave in ends.

Haven't Found What You Were Looking for? Search Again Here:
Use Our Free Gift Finding Tool Below: