(THIS POST PROBABLY CONTAINS AFFILIATE LINKS. OUR FULL DISCLOSURE POLICY IS REALLY BORING, BUT YOU CAN FIND IT HERE.)
Top Down Baby Sweater Knitting Patterns – Make Sure It's Right The First Time
Top Down Baby Sweater Knitting Patterns are well known for using with beginner knitters. It is easy to adjust while knitting top down baby sweater, making sure the fit is perfect. Make a sleeve a little more short or make a jacket a little longer. Add some width or make it smaller.
And new knitters agree it is fun to knit an easy top down baby sweater knitting pattern because it is less stressful.  We have included some very pretty top down baby sweater knitting patterns and even some FREE top down knitting patterns for babies.
A very popular top down baby sweater knitting pattern is the top down raglan baby sweater pattern. This pattern doesn't even make you fit in the sleeves which can cause some problems for a new knitter. but the raglan sleeve is easy and fits well.
So I have chosen several very pretty easy knit baby sweater patterns for you. All are inexpensive, and some are a top down baby cardigan free pattern. So find the one or few that you like and get to knitting. The next baby shower is just around the corner. Be gift ready at all times.
In A Hurry?
Click Here
to see many beautiful top down baby sweater knitting patterns
Some Choices For Baby Sweaters From Amazon
Precious Top Down Cardigan Knit Pattern Free From Joann's
 Top Down Cardigan Knitting Pattern
This sweet little top down cardigan has instructions in several sizes so you'll be sure to have the one you need. It is one of the sweetest free baby sweater patterns around.  You'll have fun deciding on the cute little buttons and you can change the color and buttons and make a little baby boy version of this top down cardigan knitting pattern. This Free Top Down Baby Sweater Free Knitting Pattern is kind of hard to see. Just look for the little green box next to the pic and press Print. There's your pattern.
Unique and Beautiful Raglan Sleeve  Baby Sweater Pattern From Etsy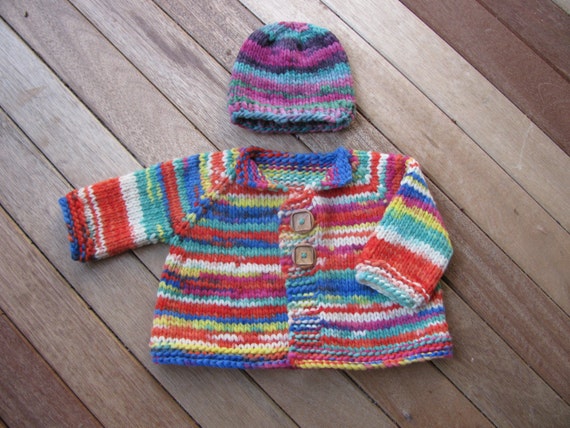 Knitting Pattern for Chunky Top Down Baby Jacket And Hat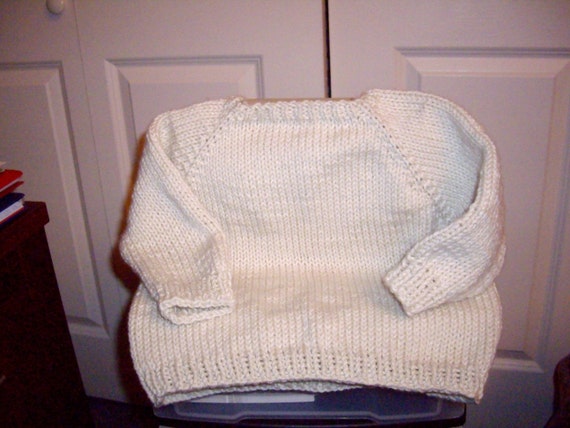 Pattern-Baby Knit Top Down Sweater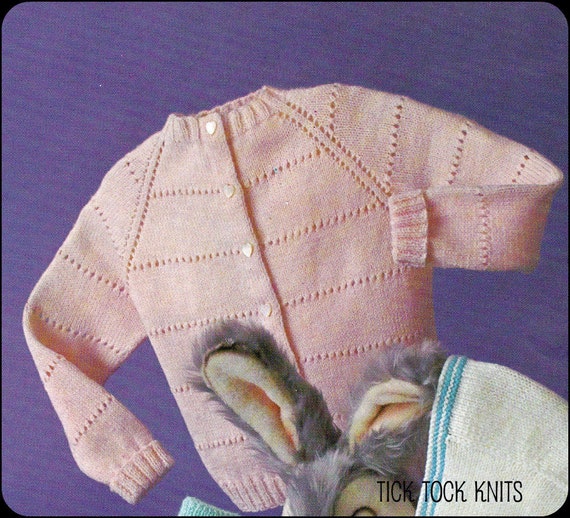 Baby's/Child's Raglan Cardigan, Knit Top-Down

Knit Baby Sweater Pattern Top Down Raglan Sleeve
Top Down Raglan Baby Sweater
This very precious easy newborn knitting baby sweater is a free pattern believe it or not. It's knit top down and it's raglan sleeve baby sweater pattern, all the usual suspects. I love this sweater and it is just straight forward beautiful. Enjoy this one.
Sunnyside Free Top Down Knitting Patterns for Babies
Sunnyside- Top Down Knit Baby Sweater
A beautiful little sweater, shown two different ways in the photo to give you some ideas and to stimulate your imagination as to how much can be done with this top down baby sweater knitting pattern.
This is a Ravelry free download. Meaning it is free to download if you are a member of the Ravelry community. If you are not sign up for a free membership, and then the entire community of crocheters and knitters is open to you and this pattern can be yours.
The author gives you some nice suggestions as to what to do and even suggests that the small sizes could be a one skein project for that gorgeous single ball of yarn you purchased. We've all done that! And one of the alternate ways to knit this is a Free cable knit baby sweater pattern, very cool.
Unbelievable That This Cute Top Down Baby Sweater Could Be Free-But It Is!
Lazy Daisy All-in-One Baby Top ~ for Preemies
This is a preemie knitting pattern. Which means you will complete it a much quicker amount of time. But it is no less beautiful. A lot of people like to knit for charity, and all the hospitals love having little gifts for their preemie babies that sometimes have very little. And it helps them keep warm, since preemies have trouble regulating their body temperatures.  Preemie hats knitting patterns are another very appreciated gift for the babies at hospitals as well.
I do hope you enjoy all these baby sweater patterns as well as the free knitting patterns for baby sweaters. They are all very special and you will have so much fun knitting them. Enjoy!
Take A Look At This
You Maybe Be Interested In This
Baby Kimono Knitting Patterns For Your Next Knitting Project Or Baby Gift
Baby Knitting Pattern Creative Gift -For You Or Others
Pin These Pretty Top Down Baby Sweater Knitting Patterns to Your Favorite Board

Haven't Found What You Were Looking for? Search Again Here:
Use Our Free Gift Finding Tool Below: