(THIS POST PROBABLY CONTAINS AFFILIATE LINKS. OUR FULL DISCLOSURE POLICY IS REALLY BORING, BUT YOU CAN FIND IT HERE.)
What to Make Baby Sweater Knitting Easier?  Knit it From the Top Down
(Make Sure It's Right The First Time)
Top Down Baby Sweater Knitting Patterns are well known for using with beginner knitters. It is easy to adjust while knitting top down baby sweater, making sure the fit is perfect. Make a sleeve a little more short or make a jacket a little longer. Add some width or make it smaller.
And new knitters agree it is fun to knit an easy top down baby sweater knitting pattern because it is less stressful.  We have included some very pretty top down baby sweater knitting patterns and even some FREE top down knitting patterns for babies.
A very popular top down baby sweater knitting pattern is the top down raglan baby sweater pattern. This pattern doesn't even make you fit in the sleeves which can cause some problems for a new knitter. but the raglan sleeve is easy and fits well.
So I have chosen several very pretty easy knit baby sweater patterns for you. All are inexpensive, and some are a top down baby cardigan free pattern. So find the one or few that you like and get to knitting. The next baby shower is just around the corner. Be gift ready at all times.
In A Hurry?
Click Here
to see many beautiful top down baby sweater knitting patterns
Some Choices For Baby Sweaters From Amazon
Precious Top Down Baby Sweater Knitting Patterns
Cardigan With Options -Knit Pattern FREE
Sunnyside Top Down Knit Baby Sweater
This precious little cutie is wearing a beautiful little top down baby sweater that has two options for you to choose from. A very creative pattern that you can either work a delicate lace for a little girl or the more rugged cables for the little boy.
And the smallest size is a perfect one skein project that you can take along and work on it as you find time. A gorgeous little sweater that you can take some control of how it comes out.
The author gives you some nice suggestions as to what to do and even suggests that the small sizes could be a one skein project for that gorgeous single ball of yarn you purchased. We've all done that! And one of the alternate ways to knit this is a Free cable knit baby sweater pattern, very cool.
Unique and Beautiful Raglan Sleeve  Baby Sweater Pattern From Etsy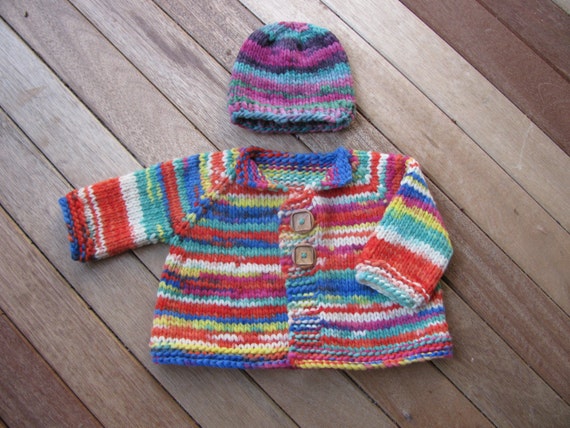 Knitting Pattern for Chunky Top Down Baby Jacket And Hat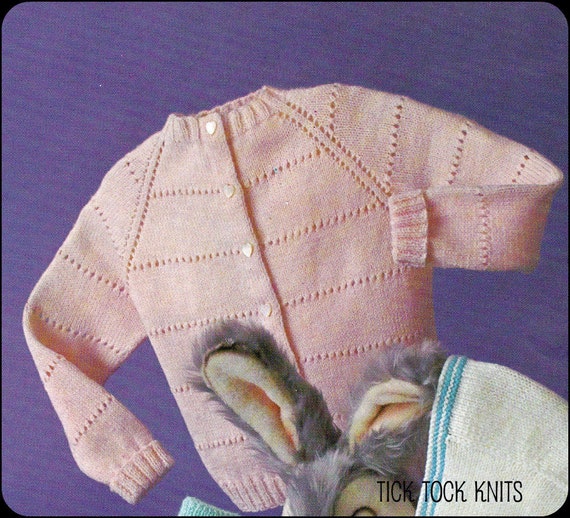 Baby's/Child's Raglan Cardigan, Knit Top-Down

Really Sweet Top Down Baby Sweater Knit Pattern
This Pattern is Excellent for Beginner Knitters
Top Down Baby Sweater- Free
Knit Baby Sweater Pattern Top Down Raglan Sleeve
Top Down Raglan Baby Sweater
This very precious easy newborn knitting baby sweater is a free pattern believe it or not. It's knit top down and it's raglan sleeve baby sweater pattern, all the usual suspects. I love this sweater and it is just straight forward beautiful. Enjoy this one.
This sweater is knit from the top down. The advantage of starting at the top is you can see how it is coming out and extrapolate the width and length accordingly. The size of the sweater is determined by the depth of the raglan "seam".For the smaller sizes, 5 buttonholes are enough and the dividing occurs just about at the third buttonhole.
If you measure the distance between the first and second buttonhole you will have an idea of how long the sweater will be.
This beautiful pattern is designed by Carole Barenys
Materials:
2 50-gram skeins sport weight yarn
#3 (US) needles
#5 (US) needles
#3 (US) d.p. needles (set of 4)
#5 (US) d.p. needles (set of 4)
crochet hook
2 stitch holders
5 or 6 ½ inch buttons
Gauge:
6 st=1 inch 9 rows=1 inch
Size:
newborn to 3 months
To make a 3-6 month size, start the same way, making the back about an inch wider. Sleeves will automatically be wider. Work in the same way, using 6 buttonholes in all.
Instructions:
Cast on 76 stitches on #3 needle.
Row 1 (right side): k 5 for border, k 2, p 2 ribbing to within 5 sts of end, k 5 for border
Row 2: k 5 for border, p 2, k 2 ribbing to within 5 sts of end, k 5 for border
Repeat these two rows once.
Row 5 (First Buttonhole):
Boy: k 2, yo, k 2 tog, inserting needle from left side, k 1, work to end.
Girl: Work row same as Row 1, to within 5 sts of end. k 2, yo, k 2 tog inserting needle from left side, k 1.
Buttonhole will be worked every 9 ridges (18 rows) for a total of five.
Work 2 more rows in ribbing.
Change to larger needles.
Divide work for body and sleeves:
Row 8: k 5 sts for border, p 10 for front, k 2 for "seam", p 6 for sleeve, k 2 for "seam", p 26 for back, k 2 for "seam", p 6 for sleeve, k 2 for "seam", p 10 for front, k 5 sts for border.
Raglan increase row:
Work 5 sts in garter stitch (all k) for border, knit to within 2 stitches of "seam". Increase by knitting 2 sts in next stitch (k into stitch, do not pull off needle, then k a second stitch into back of stitch–this does not leave a hole), k 1, p 2 for "seam", increase in next stitch, knit to within 2 sts of "seam" and increase in same manner-increasing before and after "seams" in the same manner (next-to-the last stitch before "seam" and first stitch after "seam") across row.
Next row: k 5 sts for border, p 11, k 2 for "seam", p 8 for sleeve, k 2, p 28, k 2, p 8, k 2, p 11, k 5.
Increase in next row in the same manner as above, adding 8 stitches to the row each time before and after each "seam", and working a buttonhole every 9 ridges on left or right border.
End of raglan increases:
When there are 56 stitches on the back and 36 on each sleeve, work one more row on reverse side. Then divide off work by working across, binding off the "seam" stitches and putting the sleeves on stitch holders. Continue to work the front pieces and back piece all in one, adding buttonholes at the same intervals. After buttonhole #4, work halfway to next buttonhole, then switch to ribbing on smaller needles (work to correspond to collar) and incorporate the fifth buttonhole in the ribbed cuff. Work a few more rows and bind off in ribbing.
Sleeves:
Pick up the stitches from one of the holders and divide between 3 d.p. needles (12 on each). Attach yarn at underarm and work rounds in all knit stitches to desired length. Change to smaller needles and work cuff in k 2, p 2 rib. Sleeves should be about the same length as the body of the sweater, or slightly longer. Work second sleeve the same way.Finishing:
Stitch up the small holes under the arms and sew buttons on securely.
Variations:
Two-row stripes, 4-row stripes, occasional stripes in neckband and cuffs. Remember to twist the two colored yarns at the end of the row, to carry threads neatly.
Can be made with no buttons and holes, using a zipper instead.
This beautiful pattern is designed by Carole Barenys and is available on her site Knitting on the net.
Very Cute and Easy Top Down Raglan Sweater for Baby
Excellent Beginner Pattern, No Seams at All!
Little Coffee Bean Cardigan
This is a very pretty but very easy baby cardigan. The designer made the pattern in three sizes for you to choose from. And it is a top down pattern with raglan sleeves.
The entire project is seamless so it makes it perfect for your first knitting project that isn't just straight back and forth knitting. You are going to enjoy this little pattern. and you may find it is one you will make over and over. 
Unbelievable That This Cute Top Down Baby Sweater Knitting PatternCould Be Free-But It Is!
Lazy Daisy All-in-One Baby Top ~ for Preemies
This is a preemie knitting pattern. Which means you will complete it a much quicker amount of time. But it is no less beautiful. A lot of people like to knit for charity, and all the hospitals love having little gifts for their preemie babies that sometimes have very little. And it helps them keep warm, since preemies have trouble regulating their body temperatures.  Preemie hats knitting patterns are another very appreciated gift for the babies at hospitals as well.
I hope you enjoy these Top Down Baby Sweater Knitting Patterns  as well as the free knitting patterns for baby sweaters. They are all very special and you will have so much fun knitting them. Enjoy!
Take A Look At This
You Maybe Be Interested In This
Baby Kimono Knitting Patterns For Your Next Knitting Project Or Baby Gift
Baby Knitting Pattern Creative Gift -For You Or Others
Pin These Pretty Top Down Baby Sweater Knitting Patterns to Your Favorite Board

Haven't Found What You Were Looking for? Search Again Here:
Use Our Free Gift Finding Tool Below: