(THIS POST PROBABLY CONTAINS AFFILIATE LINKS. OUR FULL DISCLOSURE POLICY IS REALLY BORING, BUT YOU CAN FIND IT HERE.)
Two Needle Knit Baby Booties Patterns
Don't Let Fear Stop You! Just Knit Them Flat
Two needle knit baby booties patterns are the solution for new knitters who might be intimidated by circular or double pointed needles. Baby bootie knitting patterns the traditional way is to use  double pointed needles or double pointed needles. Some knitters prefer this way because of the seamless look and an experienced knitter would not find this difficult. But a new knitter would be challenged in the beginning by these methods.
A Two Needle method is the answer for new knitters. It is knitting the bootie pattern flat then sewing the seam in the back. It produces a beautiful bootie and the seam is virtually invisible. And handling two needles is much easier. The whole idea is accomplished by what you do with the stitches on the two needles. You work them in patterns. The following two videos give you the basic idea of this method.
Cyberseams Free Baby Booties Two Needle Knit Pattern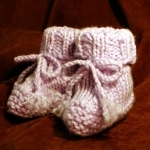 Knitted Baby Booties – Size: Newborn to Six Months
Precious little bootie pattern, FREE, knit on two needles. And there are two how to vidoes to help you with the pattern. A wonderful way to get your feet wet with knitting baby booties. Click Here to get this pattern.
Cyberseams Two Needle Baby Bootie Free Pattern
Part One (Video)
This video shows the construction of a baby bootie pattern, knitted with straight knitting needles. You do not need to know how to "knit in the round" in order to make this pattern! It's an excellent project for beginner knitters.
Knit Baby Booties on Two Needles Part Two (Video)
Another Free Baby Bootie Two Needle Knit Baby Bootie Pattern
RAY OF HOPE
These very adorable little booties are from the BBC site. They tell you everything you need and the entire pattern. These are very doable and on Two needles! Go Here for the pattern.
How to Video Assist for the Ray Of Hope Two Needle Knit Baby Bootie Pattern
To make two needle knit baby booties patterns
, you'll need knitting needles
, yarn
, a yarn needle
and/or crochet hook
. By watching the three videos above you will successfully knit a pair of baby booties on two needles and you'll do great.
More How To Help For The New Knitter
The above  videos assume you know the basics of knitting. It  does not actually  teach you how to knit. If you are new to knitting these additional resources may be helpful to you:
How to Knit – the Basics:
We also have knitting instructions for Left Handers here: How To Knit Left Handed (Video)
How to Purl Left Handed (Video)
Knitted Cast On How To For The Above Two Needle Baby Bootie Patterns (Video)
How To Knit The Basics
Garter (Knit) Stitch, Purl Stitch, Rib Knit, and Stockinette Stitch can all be found here:
One More How To For The Two Needle Baby Booties Pattern (Video)
Purl knit  two together (P/k2tog) is one way of the methods to decrease by one stitch in your pattern. Another decrease used is the slip 1, purl knit 1, pass slipped stitch over, (S1,p/k1,psso) The above pattern calls for these stitches. Why the two different kinds of decreases? Each one slants your work in a different direction, so by repeating the same decrease on one side and the other decrease on the opposing side, your pattern develops a V shape that is needed for the shaping of the bootie. You will see the shape take hold as you continue to knit and decrease. Here are videos to help you learn these stitches.
More Baby Bootie Two Needle Patterns to Practice your New Skills
Baby Booties Knitting Pattern Two Needle
Mock Cabled Baby Booties
Baby Knits Pattern – Baby Booties Shoes
How About This Free Two Needle Baby Bootie Knitting Pattern
FREE Two Needle Baby Booties
Free Pattern Knit Flat Baby Booties
FREE Flat Knit Baby Booties
Related: More FREE Booties Patterns
Free Baby Bootie Knitting Pattern- A Favorite Among All Knitters
Knitted Cuffed Baby Booties Easy Free Knitting Pattern
Free Easy Baby Bootie Knitting Pattern Two Needle Pattern Knit Flat
Have A Look At this
Haven't Found What You Were Looking for? Search Again Here:
Use Our Free Gift Finding Tool Below: